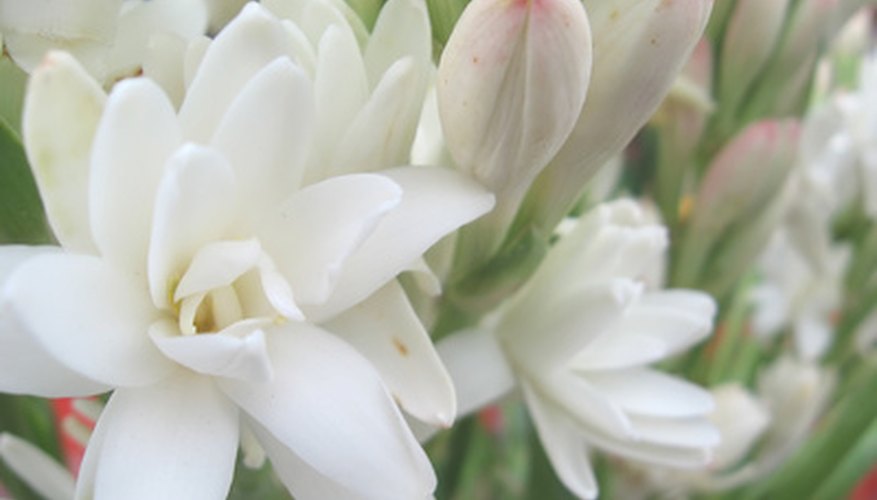 Deliciously fragrant white flowers with a tubular shape and six lobes grace the stems on tuberose (Polianthes tuberosa) in summertime for weeks. A cold-tender bulb that is grown in U.S. Department of Agriculture hardiness zones 8 through 12, it may be planted in spring elsewhere to flower in late summer and then be dug up and stored inside over winter. In warmest areas of zone 7, a thick layer of dry mulch protects the underground bulbs from frost damage during the winter dormancy. Selection 'The Pearl' produces flowers with extra petals, making each blossom double in form.
Visit a garden center in spring and look for packages of tuberose bulbs for sale. Depending on your climate, the bulbs may appear in early spring in warm winter areas or late spring alongside other summer bulbs like dahlias, calla lilies, caladiums or gladiolas, as suggested by the University of Illinois Extension Service.
Ask the plant nursery clerk about availability of tuberoses if you do not see the bulbs displayed and for sale. Depending on its product supplier, tuberoses may also be sold already potted and growing in small containers later in summer.
Examine both tuberose bulbs or pot-grown plants at the nursery before purchasing. Bulbs should be dry, firm and often show signs of life such as emerging white root or stem shoots. Pots with tuberose foliage or flowers should look lush green and healthy. Avoid buying bulbs or plants that look weak, shriveled or diseased.