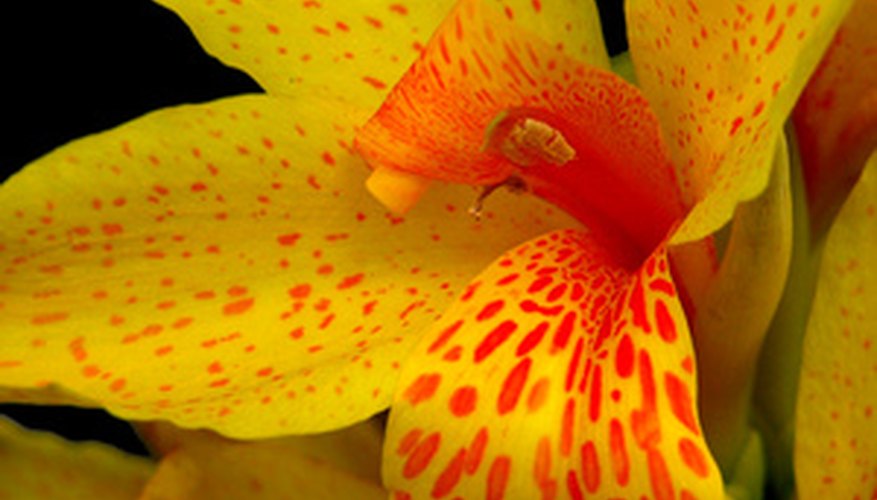 Tropical plants often have bright flowerheads that grow in a wide range of colors, textures and shapes. Some flowers are variegated with multiple swirls of colors, while others are solid. Alongside the striking flowers is the lush foliage that ranges from deep emerald green to chartreuse. Most tropical plants thrive in nutrient-rich soils to produce their brilliant blooms. They are ideal tucked along borders or lining pathways for a "junglely" feel to the landscape.
Canna
Canna Indian shot (Canna × generalis) is a tropical summer-blooming plant that has attractive flowers that grow on upright spires that appear to be shooting out of the foliage. They are suitable in USDA zones 8 to 11. Flower colors on canna plants include, red, purple, brown and green to create a dramatic combination with the bright green leaves. The broad leaves on canna are smooth and paddle-like and attached to the smooth stout stems that hold the flowers. Canna flowers grow up to 6 feet tall with a spread of 1 to 3 feet and clumping growth habit. These tropical beauties make ideal backdrops to a flower border or bed because of their dramatic appearance and height. Canna grows best in full sun only. For a long blooming season, deadhead the spent canna blooms.
Elephant's Ear
Elephant's ear Coffee Cups (Colocasia esculenta 'Coffee Cups') is a tropical plant that grows in USDA zones 8 to 11. Its unusual cup-shaped leaves sit atop the black stems to create a dramatic display. Elephant's ear has a rapid growth rate and clumping habit that quickly grows within the garden to create a striking design. Elephant's ear grow up to 6 feet tall and wide to make a grand impact on the landscape. Elephant's ear can be divided in winter or early spring to grow in other areas of the garden. They grow best in full sun only and moist, nutrient-laden soils.
Papaya
Papaya (Carica papaya) is a tropical shrub with a vigorous growth rate that is suitable in USDA zones 10 to 11. The lobed leaves on papaya are 2 feet wide and create a commanding presence on the landscape. Attached to the leaves are the edible fruits that are delicious in a wide range of recipes. Papaya shrubs reach 15 feet tall so are an ideal tropical shrub to plant as a specimen plant to create a focal point to the garden. Papaya shrubs do well in high summer to early fall and will continue to produce until the first frost. They require full sun to produce their tropical fruits. They also need well-drained, humus-rich soil. Adding a layer of mulch helps papaya retain moisture.