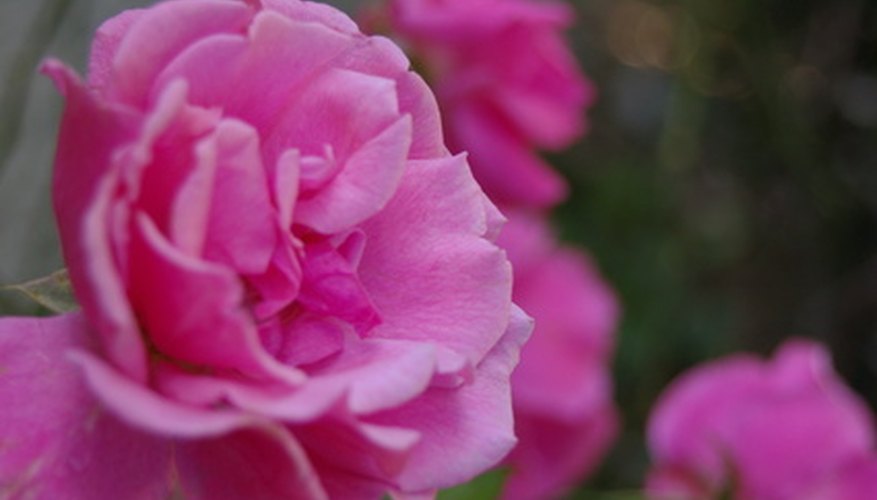 Tea roses have been around more than 100 years and are a staple in the home garden. Their small blooms and wide range of colors offer a dizzying number of choices. The knockout rose is a recent newcomer to the rose world but has gained prominence due to its ease of care and high disease and climate tolerance. While only limited colors are currently available, the knockout rose is quickly becoming a rose lover's favorite.
Tea Roses
Tea roses of today are a hybrid bush-type rose. They are the most popular garden rose and have been around since 1867. The flowers bloom on individual stems and do not rebloom. The stems are long, making them excellent choices for cut flowers. They need winter protection as they are only semi-hardy. The plants remain small, reaching an average of 2 to 5 feet in height. Aphids and black spot are the common problems affecting tea roses. There are thousands of tea rose varieties.
Knockout Roses
Knockout roses were developed in 2000 as a more maintenance-free, easy-to-car-for rose. They are small rounded bushes reaching about 4 feet in height. Knockout roses continue to bloom from late May or early June all the way until the first frost. They are bred to be heat-, drought- and cold-tolerant through USDA zone 5. They are also resistant to black spot. The blooms originally had a single row of petals, but later variations have two rows of petals, making them look more like traditional roses. These later versions are called double knockout roses.
Differences
Tea roses do not bloom repeatedly in a single growing season. Knockout roses bloom continually from spring until late fall. The majority of tea roses are susceptible to black spot, a fungal disease, while knockout roses have been bred to be resistant to it. Tea roses are also susceptible to damage from winter conditions; knockout roses are more resistant to cold-weather damage. The bloom configuration is different. Tea roses look more like a true miniature rose; the one or two rows of petals on a knockout rose do not bear as much of a resemblance.
Reasons to Choose
Choose the tea rose in warmer climates to protect it from winter damage. The tea rose will do better in drier climates where humidity plays less of a role in letting black spot fungus grow on the bush. Personal preference for the shape or the bloom or the wider color selection would be another reason to choose the tea rose.
Choose the knockout rose if you like the look of a rose bush but either live in a colder zone or don't want to spend time nurturing the bush through climate changes and droughts. The knockout rose requires less maintenance.
Colors and Varieties
Tea roses come in reds such as Mr. Lincoln and Veteran's Honor; pinks such as Friendship, Bon Selene and Monsieur Tillier; yellows including Midas Touch and Celebrity; the orange Voodoo; the white Garden Party, the creamy Devoniensis; lavender's Purple Passion and the blended pink and white Homere.
Knockout roses are available in red under the name knockout rose and double knockout rose; pink as blushing knockout Rose, pink knockout rose and pink double knockout rose; a pink and yellow variation called the Rainbow Knockout Rose; and yellow Sunny Knockout rose.