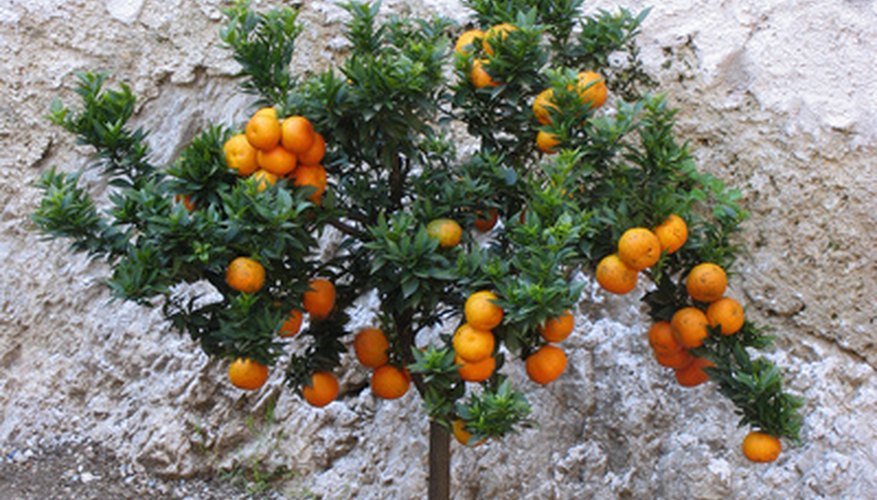 Citrus trees are tropical and subtropical trees. As such, they do not withstand cold temperatures all that well and can incur injury with frost. Young trees, those up to 4 years old, need winter protection more than mature trees. Even the latter, however, can benefit from cold-weather protection. Knowledge of how to provide this for your trees will keep them healthy and thriving all year round.
Stop fertilizing the tree before Oct. 1. Fertilizing after this point encourages new flushes of growth that are susceptible to cold injury. Although only warm weather causes growth spurts, fertilizer helps it along.
Thoroughly water the soil around the citrus tree a few days before a hard freeze is anticipated. Moist soil can absorb and conduct heat better than dry soil.
Treat the bark of the tree with an insecticide and a copper-based fungicide. This will prevent insect and disease problems over the winter.
Build a mound of soil around the tree, about 15 inches high. This will provide insulation during the coldest temperatures.
Drape a blanket or plastic over the top of the tree. It does not have to completely encase the canopy. Secure it with rope and stakes. This will keep the tree from direct interaction with frost.
Things You Will Need
Water

Insecticide

Fungicide

Soil

Blanket or plastic

Rope

Stakes
Tip
Remove the soil after the danger of frost passes. Be careful because the bark will be delicate after residing underground for so long.