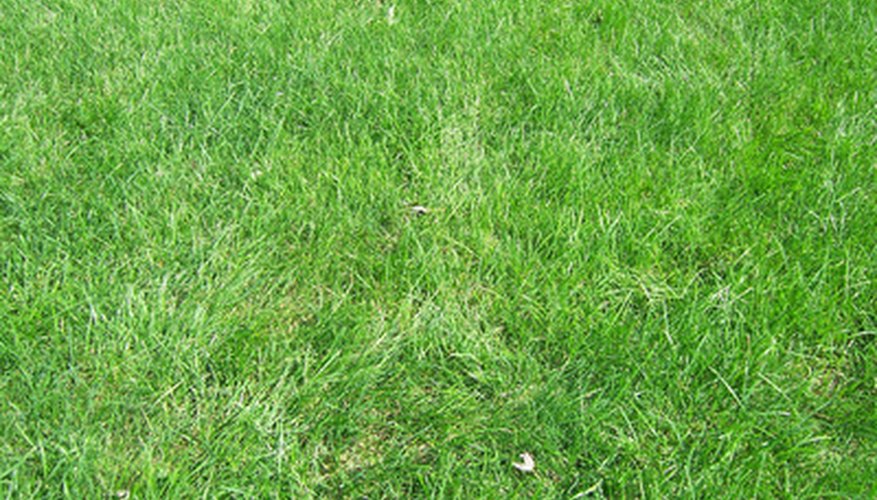 Grass seed can grow in most soil types, including dirt. The key is to add nutrients and aerate the dirt to promote germination. Choose a grass seed that is made to grow in your climate and environment. If your yard is in the shade, for example, get a seed that doesn't need much sunlight. If your region has cold winters, choose one that can survive freezes (not St. Augustine grass). Hard, packed dirt full of debris doesn't provide a good base for a lush lawn. Once the dirt is loosened and fertilized, however, grass can sprout in about 10 days.
Clear the area of debris such as stones and weeds. Till at least the top 4 inches of the dirt to loosen it up and aerate it.
Improve the dirt with compost and sand. Spread 1 inch of each substance down on top of the dirt. Use the rotary tiller to combine it with the local dirt.
Feed the amended dirt with a starter fertilizer or one that contains a lot of phosphorus. Set the broadcast spreader to the rate indicated on the seed package.
Fill a hand spreader with the appropriate amount of grass seed if you're planting in a small area. Use a mechanical spreader for a larger yard. Use the seed bag to determine how much seed to use per square foot.
Rake the grass seed to mix it lightly into the top 1/8 inch of dirt. Covering it will keep it in place and speed up germination.
Set a sprinkler to the oscillating setting. Water the new seed two to three times a day for 10 minutes. Keep up with this schedule for 10 days. Once the seedlings start coming up, water once a day for 15 to 30 minutes.