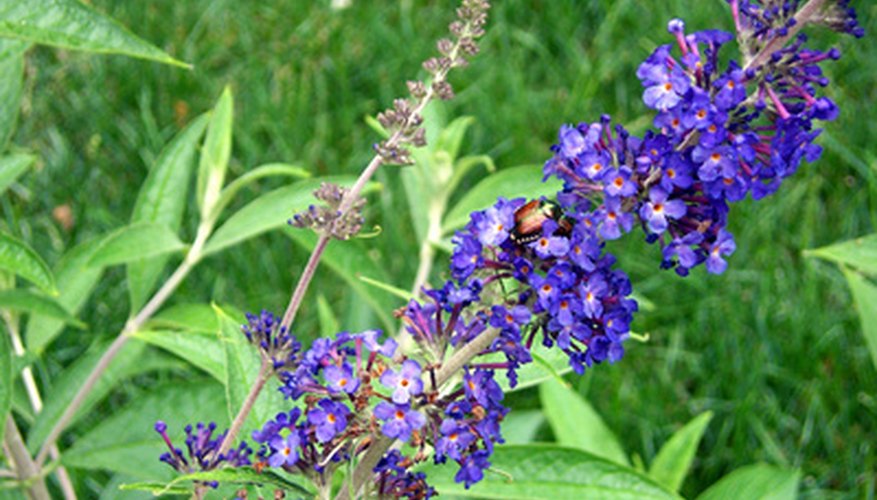 Create a classic hedgerow or border within the garden using fast-growing shrubs. Look for native shrubs that grow within the environment to ensure a successful planting. Investigate the shrubs' potential growth to ensure you have space in your garden for the mature plants. Fast-growing shrubs need more pruning than slow-growing varieties to keep them looking tidy and well kept.
Thorny Elaeagnus
Thorny Elaeagnus (Elaeagnus pungens) grows in USDA Hardiness Zones 6 to 9. It's a rapidly growing evergreen shrub that grows up to 15 feet tall with a spread of 6 to 10 feet. It has a spreading, mounded shape with dense, arching branches that require frequent pruning. The silvery-white, fragrant flowers emerge in spring followed by small, red berries that bring winged wildlife into the garden. Thorny Elaeagnus has shiny silver-to-green leaves that grow 2 to 4 inches long with ruffled margins and a light-brown underside. It requires full sun to part shade and tolerates a wide range of soil varieties, including dry and wet soil. Thorny Elaeagnus is drought tolerant.
Chinese Photinia
Chinese Photinia (Photinia serrulata) is an evergreen shrub that is adaptable in zones 6 to 9. It grows 12 to 25 feet tall and has a spread of 12 to 20 feet. Chinese Photinia has a broadly oval shape and can be grown as a small tree. The white flowers are born in spring to grow 4 to 7 inches long with a scent some find offensive. Small, red pomes emerge from summer to fall for a stunning display that is one of this shrub's best features. It does best in full sun or part shade and well-drained soils. Chinese Photinia has lustrous dark-green foliage that grows 4 to 8 inches long, with new growth emerging in chartreuse and tinged with bronze.
Alternate Leaf Butterfly Bush
Alternate leaf butterfly bush (Buddleia alternifolia) is a perennial shrub with a rapid growth rate and long, arching stems that hold the fragrant summer-blooming flowers. They grow in zones 5 to 7. The alternate-leafed bush grows up to 20 feet tall with a width of 8 to 10 feet. The dense clusters of bright purple-to-lilac flowers appear on new wood, so prune after flowering to ensure a round of hardy blooms the following season. They grow best in full sun and nutrient-rich soils that is full of organic matter. The butterfly bush tolerates drought and clay soils and is adaptable to different soil conditions.