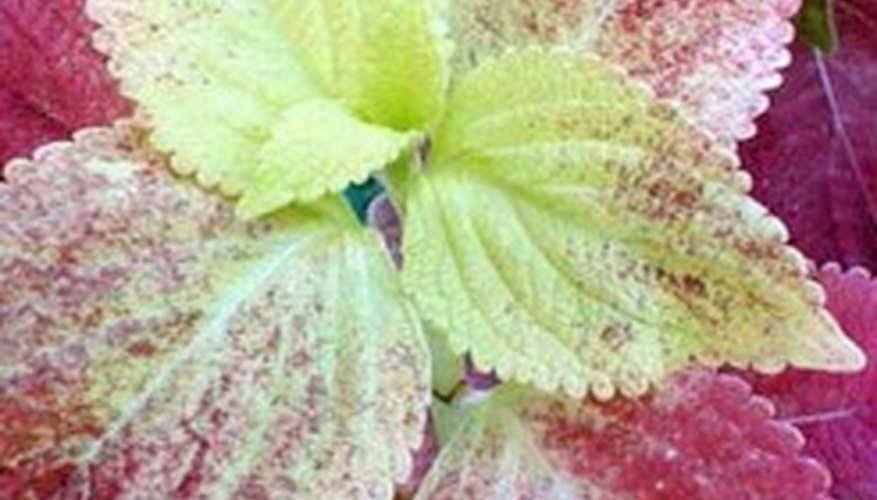 © August 2000 by Georgiana Marshen
Coleus, during the Victorian era, was a popular colorful foliage plant that was planted in the garden alongside other bedding plants. As years passed, Coleus' popularity dwindled and only the indoor varieties, used as houseplants, were available.
Back by popular demand, Coleus is making a re-emergence as a beautiful colorful foliage plant, not only for the shade, but for the sun as well. For years, Coleus was only grown in the shade, where its' colors would hold and not fade. Now, breeders have successfully created varieties that can be grown in the sunniest spot in the garden. Coleus' wonderful bright colors can now come out of the shadows and into the light for all to see.
Of the more than 50 varieties tested at the trial gardens at the University of Georgia, the following varieties turned out to be real winners.
Sunlover Series, which includes 'Rustic Orange', 'Gay's Delight' and 'Thumbelina', a fast, low grower, all received high marks for consistence performance. 'Red Ruffles' received the Georgia Gold Award for its' outstanding performance. 'Red Ruffles' tolerance of heat, humidity, drought, flooding rains, bugs and disease was superb.
Solar Series keeps its' brightness and stays upright through the most hot summer day. 'Solar Morning Mist' has leaves that are white and green and edged in scarlet. 'Solar Sunrise' has purplish-pink leaves with green centers.
Texas A & M Extension, too, conducted trials of more than 70 cultivars and found two varieties that were outstanding performers in full sun. SuperSun 'Plum Parfait' has a ruffled leaf, which has a purplish-plum color early in the season. As the summer heat rises 'Plum Parfait' develops bold pink margins on its' leaves. It is best to plant this variety in the front of your garden so you can fully appreciate its' change of color. SuperSun 'Burgundy Sun' has large, oval to heart shaped leaves. The deep rich burgundy color is so intense that it can be seen at great distances. 'Burgundy Suns' color is so bold it can be seen from across the yard.
Other varieties that proved to be good performers are 'Alabama Sun', which has large leaves in colors of cranberry, burgundy and pink. Golden yellow highlights can be found on the edges of new growth. This variety is vigorous and upright and very popular. 'Atlas', has large, scalloped leaves of velvety burgundy and is edged in chartreuse. This variety is very upright on strong thick stems. 'Indian Frills' belongs to the Duckfoot Series. The leaves are flattened and look like ducks' feet. 'Indian Frills' has green leaves, tinged with purple. 'Purple', another in the Duckfoot Series has a grayish-purple color. Both of these varieties are smaller than the other above-mentioned varieties, growing only 18 inches tall.
Coleus Culture
• Coleus needs a well-drained soil. This is a must for proper growth.
• Grow in any type of soil, so long as it is well drained.
• Fertilize monthly.
• Space coleus between 12 and 18 inches apart. After planting, mulch the entire area to keep the weed population down and the moisture in.
• Water thoroughly at planting time. After that, water when the top one-inch of soil is dry. Check the soil every 3 to 5 days and water accordingly.
• When you see flower buds, remove them. To induce bushiness, pinch out the center stem when the plant is 4 to 6 inches tall.
Coleus Propagation
• Growing coleus from seed is easy and inexpensive. Sow the small seed onto a layer of moistened, sterile seed start mix. Cover the seed lightly and mist.
• Growing plants from cuttings is just as easy. Take cuttings in the fall before the first killing frost. Cut the center tops of actively growing plants. Make sure these cuttings are at least 3 inches long and have 2 to 3 nodes. Remove the lowest leaves and dip the stem into a rooting compound and stick into a sterile soil-less mixture. Rooting will take place in about 10 days.
Coleus Problems
• If your plants are spindly, pinch out the top center stem. This will promote bushiness.
• Yellow strippling on leaves is indicative of mites. Spray under the leaves with cold water to knock off the mites. Do this in the early morning so the leaves have time to dry.
• Small plants and poor color can be caused by whitefly. Spray the undersides of the leaves with Soap-Shield every 3 to 5 days for two weeks.
Coleus plants are a great addition to the flower garden, able to be used as a border or accent plant. Bring coleus out of the shadows and into the brightness of your garden today. You'll be glad you did.