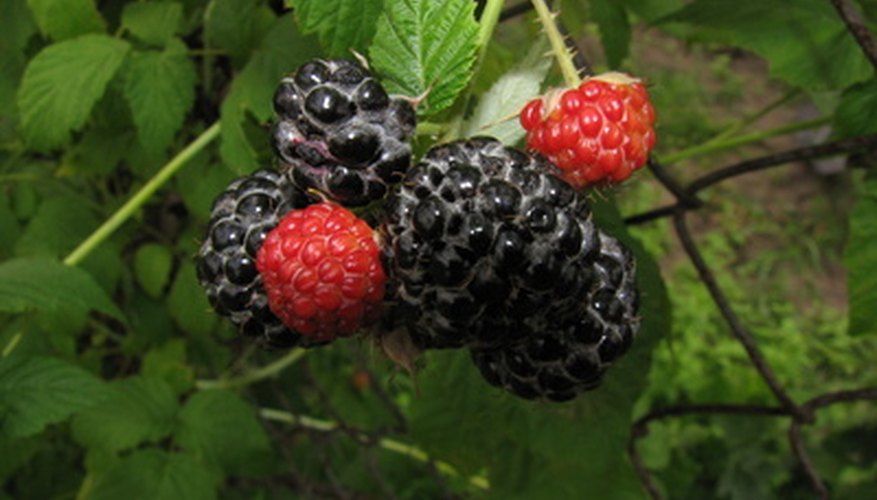 Varieties of thornless blackberry plants begin to produce fruit in their second year, after their long primocanes have been pruned back to several inches above ground. Second-year canes are called floricanes. Trailing blackberry varieties require a supporting trellis or wire system. Erect varieties have stiff upright canes that do not need support, although it may help the plants grow better. Blackberries thrive in full sun, in soil enriched with compost. Compost creates soil that retains water but drains easily. Most berries are shallow-rooted, and their roots occupy a 3-foot diameter from the main stem.
Navajo and Arapaho
The thornless Navajo blackberry was developed by the University of Arkansas breeding program. Its yield is moderate to high, and it establishes itself quickly under most growing conditions in USDA zones 6 to 10. It is an upright bush that does not need trellis support. The fruit is moderately sweet and the berries are small.
The Arapaho blackberry grows as a hedge and gives fruit for a month, beginning in mid-June. Harvest season may vary according to the USDA planting zone. The plants are the erect, upright type, and the fruit is sweet and medium-sized.
Black Pearl and Cascade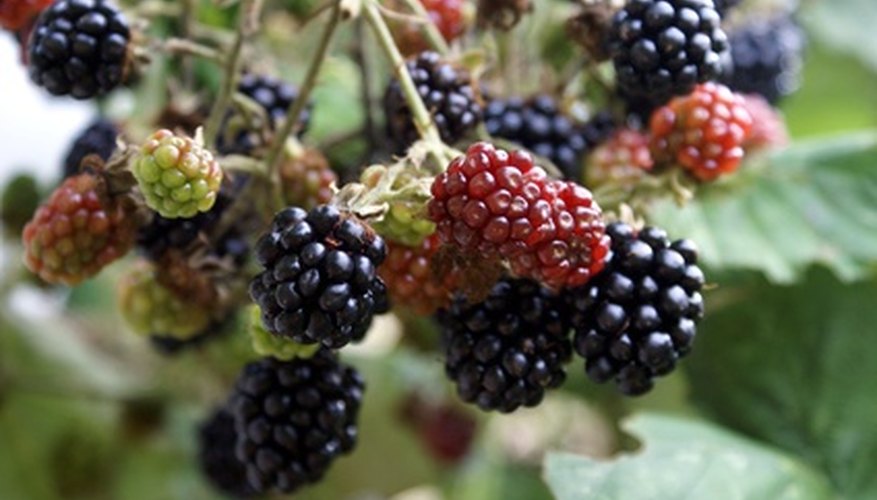 Berries come to harvest in late July and August on the black pearl blackberry plant. Black pearl is disease resistant and has more cold hardiness than many blackberries. The fruit is elongated, and the vines are very productive.
The cascade blackberry was very popular in the 1960s because of its intense blackberry taste. It is thought to be a cross between a loganberry and a wild cascade trailing berry. The fruit ripens in July.
Loch Ness and Chester
The richly tart Loch Ness is a Scottish variety thornless blackberry that's hardy in USDA zones 5 to 9. It has semi-erect canes and can be grown without support. The berries can grow to 1 inch or more in length. Fruit production is heavy, and harvest begins in August through September.
The Chester thornless blackberry is hardy in cold northern zones and is a very productive berry plant. The berries are medium-sized, firm and sweet. Fruit comes to harvest beginning in July.