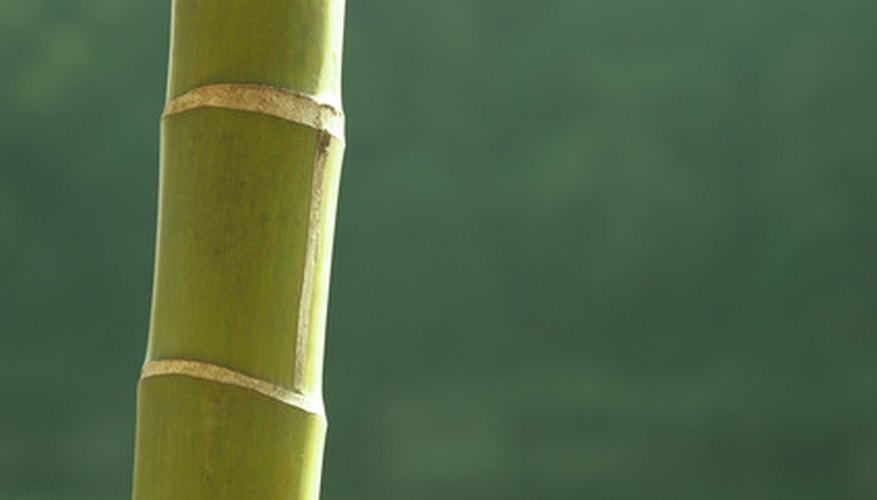 Bamboo is a perennial evergreen plant that is part of the Poaceae family. It is a woody plant that grows rapidly and thrives in temperate and warm regions. The plants are considered to be particularly valuable in Southeast and East Asia, where their stems are frequently used as construction materials, and their shoots are used as food. Bamboos have several requirements for cultivation.
Climate
Bamboo does well when it is cultivated in regions with tropical, subtropical or temperate climates. Hardier bamboo plants will thrive in the USDA's (United States Department of Agriculture's) zones 4 to 8. Tropical bamboo does well in zone 10 and subtropical bamboos flourish in zones 9 and 10. Summer temperatures should not drop below 59 degrees F.
Soil
Bamboo plants prefer soil that has an abundance of nutrients. Moist soil is also preferable for bamboo. The moisture of the soil is vital for the plant's growth. Bamboo can be cultivated in most soil types, as long as the soil is not particularly rocky. Loam soils work well for growing bamboo, as do clay loam soils. Bamboo grown in moist soils often grows taller.
Watering
It is important to properly water bamboo plants. Standard sprinkler systems are ineffective for watering bamboo, as it requires water at its root-ball. You can do this using a drip irrigation system. Standard sprinklers can be destructive to the plants that surround the bamboo, while still giving the bamboo inadequate water.
Barriers
One crucial element in growing bamboo is controlling the rhizomes' spread. Pruning is necessary for control, and requires clipping away old branches and enabling the plants to grow in smaller areas. Excessive pruning is not advised as it can kill the bamboo, or alter the size of the returning plants. You can also control bamboo, particularly in extreme cases, by digging out the rhizomes and chopping them apart with an axe. You can then re-bury the remaining parts of the bamboo.