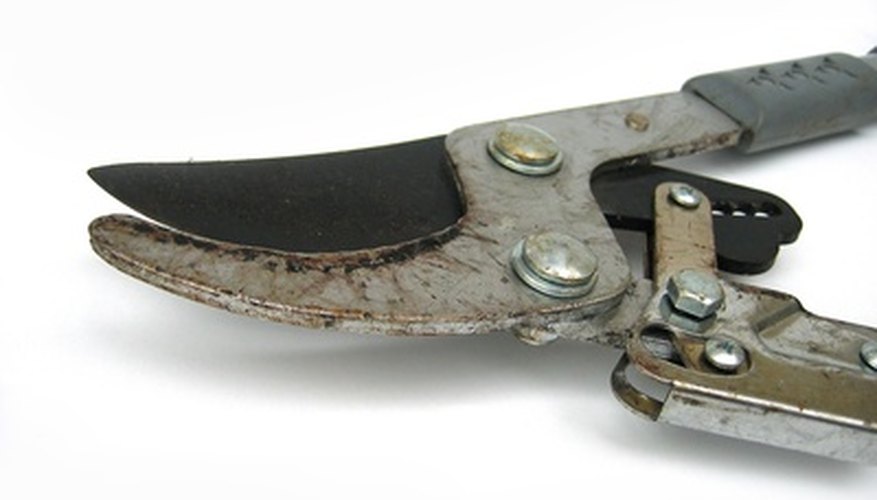 Cutting branches of trees and shrubs is often required for various reasons, such as safety or appearance. The type of tool used for pruning depends on the size of the branch, the location of the branch and the density of the surrounding foliage. Wear protective eyewear and gloves when working with pruners of any type.
Hand Pruners
Hand pruners are the tool used for small branches up to 3/4 inches wide. Choose one of two types--bypass pruners or anvil pruners. Use bypass pruners when you must work in tight areas or don't want to crush the stem. Bypass pruners use sharp, curved, scissor-like overlapping blades. Use anvil pruners when weight is a factor. Anvil pruners also cost less, but are not as effective. Anvil pruners use a sharp upper blade and a flat lower blade. Bypass pruners are more favored for use by Cooperative Extension Services such as Virginia Tech, University of Nebraska and North Carolina State University.
Pole Pruners
Pole pruners are similar to hand pruners, but have the blades on a pole for out-of-reach branches. Use pole pruners to cut branches up to 2 inches diameter that are high in the tree. Identify this tool by blades that are attached to stationary hooks mounted on top of long poles. This tool has a cord or chain that is pulled to close the spring-loaded blade. These pruners can reach 12 feet in length; there are types with extension poles that can reach farther. This tool is often used for cutting when ladders are not feasible or effective for use. The North Carolina State University Extension Service recommends using fiberglass or plastic-handled poles when working near overhead wires.
Lopping Shears
Lopping shears are a long-handled version of hand pruners for branches needing greater leverage to cut. Use lopping shears for branches larger than 3/4 inches in diameter; branches over 1-1/2 inches should not be cut with lopping shears, because the branches are too big. Loppers can have ratchet joints or gears with the blades; loppers are available with shock-absorbing bumpers between the blades as well. Handles of this tool reach 20 to 36 inches in length. Use loppers for overgrown shrubs, small branches and tall evergreen plants.
Pruning Saw
When hand pruners or loppers are not strong enough for the job, pruning saws are the tool of choice. Look for pruning saws with either curved or straight blades and with either coarse or fine-toothed blades. The style of saw is determined by the type of cut and size of branch. Virginia Tech recommends the curved fine-tooth blade for branches under 2-1/2 inches in diameter and the coarse-tooth blade for branches larger than 3 inches. North Carolina State University recommends using the curved blade saw for crowded branches or trees with dense growth. Use an 8-point saw for delicate close work with shrubs and small trees; use 4-1/2-point blades for heavy limbs. Average blades are 6-point.
Chain Saw
Chain saws are a mechanized tool for pruning branches over 3 inches in diameter. There are gasoline and electric powered saws of different engine sizes and blade length. The University of Nebraska recommends not using chain saws for pruning unless you are an experienced arborist.
Hedge Clippers
Both powered and manual hand clippers are available. Powered clippers can further be classified into both gas and electric power. Hedge clippers are used to cut small diameter growth in a straight line. This tool has long, flat blades with short handles or two hand grips mounted on the motor.