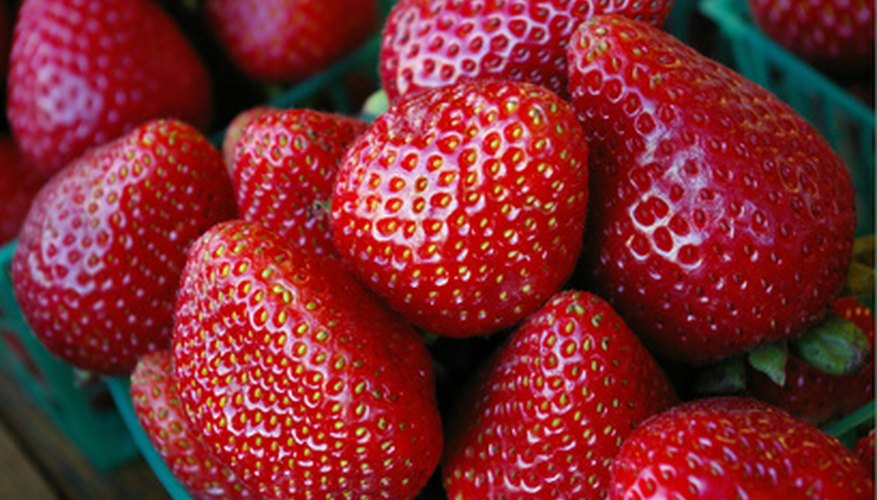 Strawberries are a common garden fruit well-known for their bright red berries and sweet flavor. The fruit is consumed ripe off the plants or used in ice cream, pies, preserves and jellies. The plants are easy to grow but begin to decrease in production after a few years. They bear several crops from early summer to late fall, then die off and become dormant in the winter and blossom again in the spring.
Purchase seeds from your local nursery or garden supply store. These seeds have already been pollinated and will produce the best fruit. If you use your own seeds, use seeds from several different plants in one hole. This will cross-pollinate the seeds for better strawberries.
Wrap your seeds in paper towels or in a freezer bag and place them in the freezer for approximately a month before you plant them. This will cold treat the seeds so they will germinate faster.
Remove the seeds from the freezer an allow them to sit at room temperature for a few days and warm up slowly.
Place the seeds in small pots under 1/4 inch of potting soil to allow them to germinate. Keep the plants moist by sprinkling a few drops of water on the soil daily. Do not allow the soil to dry out.
Replant the strawberries in 4-inch pots when they have grown two sets of leaves. Thin out the plants so that you have only one plant in each pot.
Introduce your plants to the outdoors gradually when they are approximately 4 inches tall. Allow the plants to get two to three hours of sun each day. Pinch back the first blooms and plant your strawberries outside a week after you have exposed them to outside temperatures.