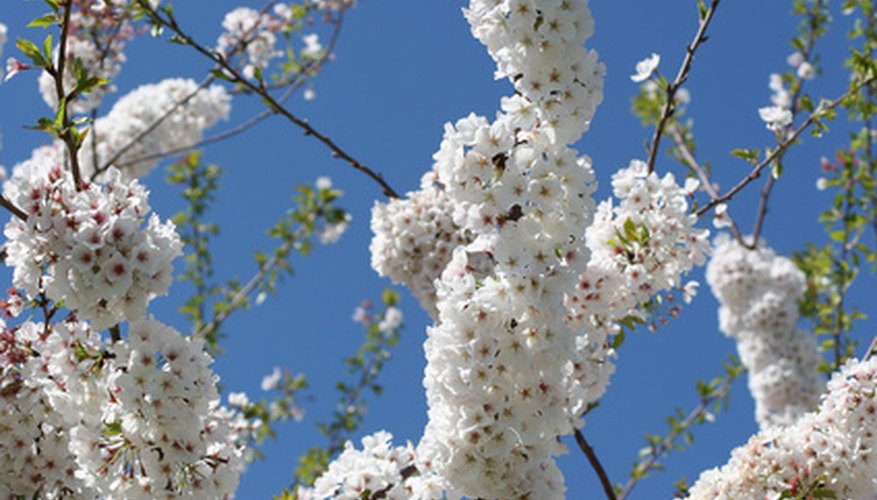 Cherry trees (Prunus avium) are a cold climate tree that thrives in USDA hardiness zones 5 through 9. For a full cherry harvest, cherry trees require at least 30 days of temperatures between 30 and 40 degrees. Cherry trees are not self-pollinating. This means that if you want fruit instead of just flowers, you will need a male and a female cherry tree in your yard. Optimal spacing for the trees is 30 feet.
Purchase
Locate a variety that is appropriate for your hardiness zone. According to Nature Hills Nursery, Bing and Utah Giant cherry trees have the widest range of hardiness zones ranging from 5 to 9. Stella and Sweetheart cherries are limited to zones 5 through 7.
Shop at reputable and reliable nurseries. Don't purchase fruit trees that you cannot inspect yourself unless the nursery has a generous return policy. Nurseries with the best return policies include Lowe's and Home Depot; both have one-year, unlimited return policies on trees.
Select a cherry tree that is 1 year old, 4 to 5 feet high and has a trunk diameter of between 1/2 and 3/4 inch. According to the University of Arizona College of Agriculture, these characteristics ensure a better adapted tree.
Plant
Select a location that receives at least nine hours of full sunlight and drains well. Avoid areas where water tends to pool; cherry trees do not like wet feet.
Use a shovel to dig a hole that is as deep as the cherry tree's container, but twice as wide.
Fill the hole with water and let the water seep into the ground.
Remove the cherry tree from its container by loosening the edges and gently pulling the tree out with the container on its side. Set the cherry tree into the hole and hold it upright in the center.
Refill the hole with a mixture of soil, sphagnum moss and coffee grounds for the optimal soil nutrient blend. Tamp down the dirt, leaving a 2- to 3-inch tree well.