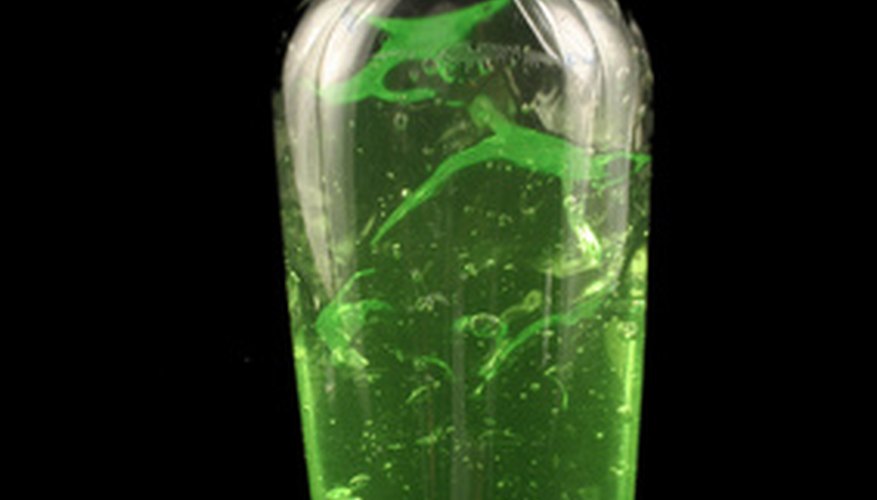 Aloe vera gel has been used for thousands of years to treat wounds, burns and skin conditions, according to the University of Maryland's research. Aloe gel is 99 percent comprised of water, but there are also polysaccharides and glycoproteins. Glycoproteins help speed up the healing process by stopping inflammation and ceasing pain, and polysaccharides encourage skin growth, hydration and repair. Many skin products contain aloe, particularly shampoo and lotion. An aloe vera shampoo helps moisturize and repair damaged hair. Create your own by harvesting the gel from your own indoor or outdoor plant with a couple snipped and sliced open leaves. After harvesting the gel, making your own fresh aloe vera shampoo and bottling it for use takes less than an hour.
Use a sharp knife to cut a large, wide leaf off an aloe vera plant. The leaf should be one of the largest ones on the outside of the plant. Cut it right at the bottom where it connects to the base.
Hold the freshly cut leaf right side up over a sink so the cut part is facing the sink to allow any liquid dark resin to drain out. Resin may or may not be in the leaf; it is most common in aloe vera plants that are in direct bright sunlight all day. If your aloe plant is dull green to brown, chances are you will have some resin in the leaf. The resin will drain out within thirty seconds, and will be light to dark brown.
Lay the aloe leaf on a cutting board. Place the knife parallel to the cutting board and slice through one side of the aloe leaf right under the top layer of skin. You want to remove only the skin if possible, which ranges from a couple of millimeters to 1/4 inch thick. Scrape off any aloe gel that sticks to the skin before you discard it.
Repeat this process on the remaining sides of the aloe vera leaf. The point is to remove only the skin and leave a thick fleshy piece of aloe "meat" that is dripping with the aloe gel. This can be stored in a glass or plastic container.
Thoroughly mix together in a bowl 1/4 cup of the gel from the aloe leaf, 1/4 cup liquid castille soap, 1/3 tsp. vegetable oil and 1 tsp. liquid glycerin. Pour this mixture into a second glass or plastic container with an airtight lid.
Store the shampoo at room temperature until ready to use.
Things You Will Need
Aloe vera plant

Sharp serrated knife

Sink

Cutting board

1 Plastic or glass container

Measuring cups and spoons

Vegetable oil

Liquid glycerin

1 Airtight container
Tip
Lather the shampoo into your hair and allow it to sit for a couple of minutes before rinsing out.
Warning
In rare cases, aloe gel may cause an allergic reaction in the form of a skin rash. If you develop a rash, stop using the shampoo.