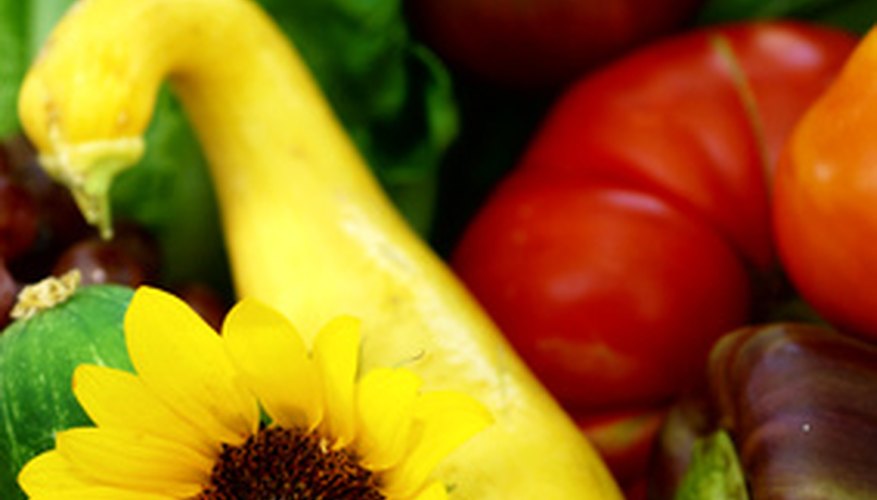 Vegetable gardens come in an array of styles, types and sizes, and may be located anywhere from walls to roofs, patios and backyards. Important factors to consider include sunlight, water, convenience (or nearness to home), air drainage and soil.
Indoor Garden
Bring your vegetable garden indoors with containers. You can place vegetable plants in any area of your home that receives a lot of sunlight daily. This could be a sunny window or a sun room. You may also move your containers around to maximize exposure to sunlight. Using a well-balanced potting soil and watering consistently is important for container plants, as they tend to dry out quickly. Drainage is also important, so make sure there is adequate drainage in the container.
Square Foot Garden
A square-foot garden is a type of raised bed garden, popularized by Mel Bartholomew, author of the book, "Square Foot Gardening." The square foot garden uses a grid of 1-foot squares laid over the top of the beds. Transplants or seeds are planted inside the squares. This garden optimizes use of space, nutrients and water, while producing a bountiful harvest.
Raised Bed Gardens
Raised bed gardens were often used in the colonial era. Today, they have enjoyed a come-back. Raised bed gardens may be created using untreated boards, bricks, blocks or anything that is non-toxic and will hold the dirt inside the bed. Raised beds provide optimal growing conditions when you use a well-balanced soil and the beds have good drainage.
Roof Garden
The name says it all--a roof garden is up on the roof. Typically, a roof garden consists of raised beds and containers, large and small. Vertical and wall plantings are often incorporated to make wise use of space. Keep in mind that soil is heavy, so use the lightest soil possible. You may need to provide a windbreak and sun-shade for some plants because the temperature is hotter and winds are more powerful at this height.
Container Garden
A container garden can be successful in any sunny area, from the porch to the sun room, the living room, patio or windowsill. Simply match the size of the container to the needs of the mature plant. A great benefit of containers is that they can be moved around. Vegetables can grow bountifully in containers, just as when planted directly in the soil.
Urban Garden
An urban garden does not have a particular location. It may be on the side of the home. It may be on a deck or on the roof. This garden maximizes whatever available space the homeowner can find. Sometimes, urban gardeners create community gardens where many people can tend a garden plot in a donated area. The urban gardener also takes advantage of wall and vertical space, such as letting beans and cucumbers growing vertically up a fence, side of the house or trellis.
Community Garden
The community garden is a worldwide concept, although it is more popular in Europe. A community garden is often started by an organization, church or group of friends. One person designates an acre or city lot for the garden, and then members of the community garden tend their individual plots. It's a way for people who do not have garden space at their home to enjoy the benefits of a garden.