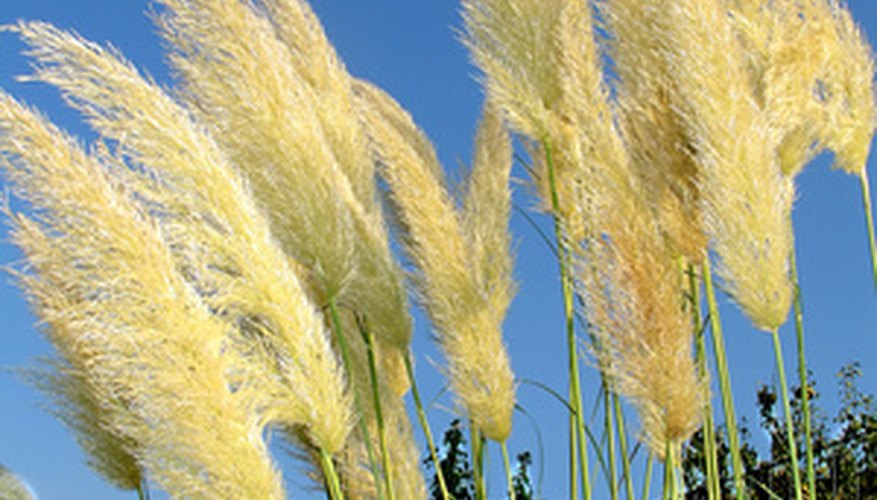 Pampas grass is a tall ornamental grass that can reach 10 feet tall in clusters of around 6 feet wide. Native to Brazil, Argentina and Chile, today there are many cultivars of pampas grass available from nurseries. Seed plumes on pampas grass grow several feet above the blades for a distinctive look in many landscapes.
Varieties
Among the many varieties of pampas grass are varieties with pinkish-white plumes and silvery-white plumes. Some varieties have green foliage, while others produce variegated foliage. Common cultivars include the following: Andes silver, with silvery-white plumes up to 7 feet tall; Bertini, a compact pampas grass that grows to 4 feet tall; pink feather, which features pinkish plumes; and monvin, which features yellow striped variegated leaves.
Hardiness
Pampas grass will grow in a wide range of climate zones. According to the University of Florida, it grows well in USDA Hardiness Zones 5b through 11. It grows near most coasts of the United States as far north as New York and can grow inland as far north as northern Oklahoma in the southern United States.
Soil
Pampas grasses are very tolerant of most soil conditions, including clay, sand and primarily loam soils, as long as the soils drain well. It does better in alkaline soil than acidic soil and can be moderately tolerant of salt. Pampas grass is a drought-tolerant landscape plant. Because of its salt and drought tolerance, pampas grass is often used in seaside landscaping.
Light
Pampas grass grows well under a variety of lighting conditions. Although many sources list it as well suited for partial sun or partial shade, it can grow well in direct sun with adequate water.
Considerations
In some cases, pampas grass and other ornamental grasses can become invasive. The University of California lists both pampas grass and a very close relative, jubata grass, as being an invasive threat to California coastal habitats. Edges of pampas grass leaves are very sharp. If children will play around the grass, be aware that the leaves can cause cuts if children fall into the grass.