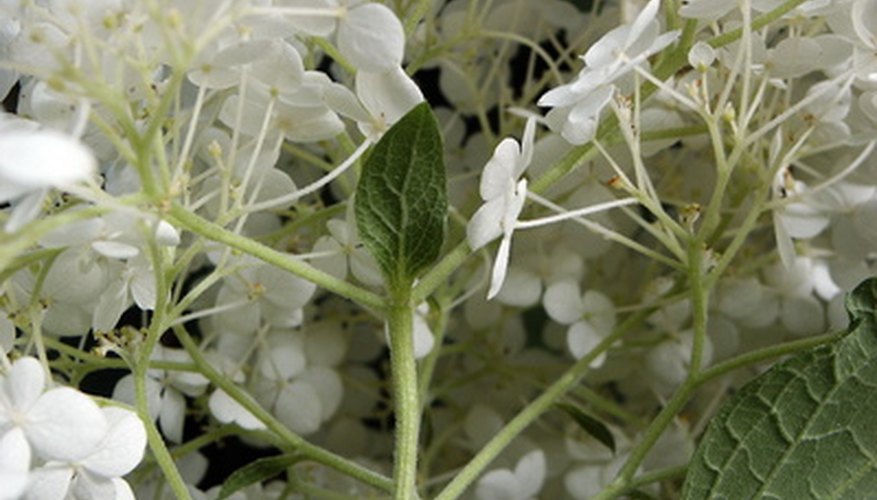 There are many shade-loving shrubs that can grow to 10 feet or more and provide interesting foliage and, in some cases, blooms. Some big shade shrubs can also be trained as trees, and have woody branches or stems. Among the most showy of the big shade shrubs is the oak-leaf hydrangea, which has a large head of white flowers, but most shade shrubs are chosen for the size, shape and color of their foliage.
Common Witch Hazel
Common witch hazel (Hamamelis virginiana) is a shade-loving shrub that can grow to 15 feet. It produces small, fragrant flowers in the fall. Witch hazel can be a shrub or a small tree, and its dark green, round leaves age to yellow or orange. The bark of this plant is used to produce the liniment witch hazel. Native to the Northeast, Witch Hazel has an open, somewhat straggling appearance. It thrives with moderate water.
Oak-Leaf Hydrangea
Oak-leaf Hydrangea (Hydrangea quercifolia) is a showy shade-lover that can grow to 6 feet tall. The deciduous shrub can survive in temperatures as low as -10° Fahrenheit, but it should be protected in the coldest climates. The foliage on this hydrangea differs from that of other varieties in that the leaves are lobed and resemble oak leaves. Foliage grows to 8 inches long and will age to red or bronze in the fall. The showy flower clusters are longer than those on bigleaf hyrdrangeas (H. macrophylla), and are white but age to light pink or purple. The oak-leaf variety makes a good container plant, and soil should be kept moist, whether the hydrangea is potted or planted in the ground.
Oriental Photinia
Oriental photinia (Photinia villosa) can grow to 15 feet in height. It produces flowers and colorful berries, and has bronze foliage. This plant is a member of the Rosaceae family and is related to the hawthorn. Oriental photinia has dense foliage, and leaves have rose highlights as they grow. Oriental photinia produces its blooms in summer before giving way to bright red berries, similar to those found on holly. Oriental photinia is often used as a hedge plant. It requires regular to moderate water, and is hardy to 10° F.