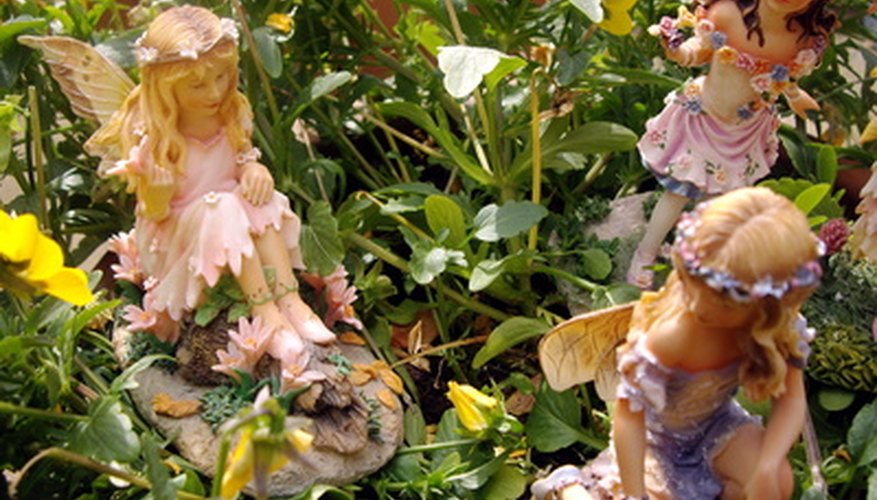 Fairy gardens create a whimsical atmosphere in your yard. Designed to appeal to the senses and lifestyle of the mythical fairy, these gardens incorporate miniature versions of plants and flowers and miniature furnishings. There are some basic rules to consider when designing your own fairy garden. Building around a central theme or item produces a mystical garden that is sure to attract fairies to your back yard.
Prepare an area for your fairy garden in a partially hidden location. Look for out-of-the-way nooks located under trees, around water features or near tree stumps. Remove the native vegetation.
Plant moss around the base of tree trunks, or around roots, to create a carpeted floor for the fairy garden. Press the moss in place and water to moisten the soil. Keep the area moist.
Transplant miniature ferns, dwarf herbs or creeping flowers to create the illusion of a woodland paradise. Tiny white violets, or lily-of-the-valley, add a touch of romance and emit a delicate, sweet fragrance.
Place fairy houses in the garden. Weather-resistant figurines of mushrooms in bright colors are typical features. Small birdhouses, overturned plant pots or other containers work for houses as well. Cover pots or containers with moss and sticks to create a natural environment.
Arrange stones to create hiding spots for fairies. Choose stones with a variety of sizes and shapes to create visual interest. Position medium-size stones in front of holes to create caves to protect fairies from the elements.
Position figurines around your garden. Some prefer to add miniature fairies to the garden, while others prefer to leave the fairies to the imagination. Small fountains, pools of water or interesting structures add to the appeal of fairy gardens.
Design a seating area for fairies. Add rustic furniture made from twigs and sticks, or create a simple bench by balancing twigs between stones. Hang a tiny swing from a seedling to add a touch of whimsy to the fairy garden.
Things You Will Need
Moss

Stones

Twigs

Miniature figurines/ornaments

Tiny containers/plant pots

String

Miniature ferns, plants and flowers
Tips
Visit yard sales to find miniatures for the garden. Discarded toys and doll furniture make wonderful additions.

Look through old Christmas ornaments for inspiration.