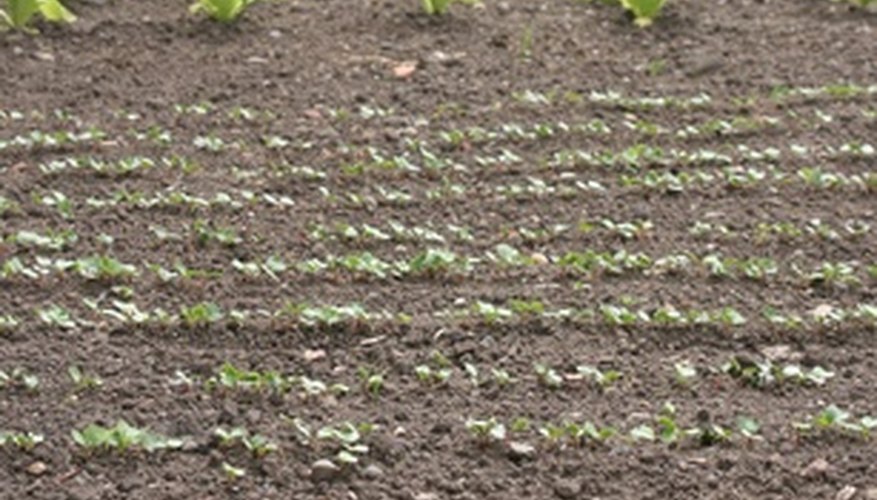 Vegetables are seasonal plants; different vegetables thrive at different times of the year. Planting vegetables at the right time should increase your chances of cultivating a successful garden throughout the growing seasons. Variables such as regional climate and soil may have some influence on which vegetables do better in your own garden.
Spring
After the last frost occurs and the soil is still cool, plant greens such as spinach, lettuces and Swiss chard. These plant seedlings are hardy and tolerate the chilly nights and spring rains. Include in your spring planting onion bulbs, peas, carrots, broccoli, cabbage and cauliflower. When the weather has warmed, but it's not quite summer, add potatoes, radishes and beets to your garden.
Summer
Summer plantings include tomatoes, beans, sweet and hot peppers and summer squash. Put these in your garden starting in early May and continue to seed these vegetables every two to three weeks to the end of June. Practicing successive plantings will lengthen your growing season and increase your yield. Cucumbers, melons and sweet corn should also be planted early in the summer.
In late summer, prepare for your fall vegetables. Seed for pumpkin and autumn squash, as well as for the hardy vegetables you planted in early spring. You can have a second crop of greens, broccoli and peas by planting them again in July and August.
Autumn
Autumn may not be a growing season in the colder Northern climates, but in the South and Southwest and along much of the West Coast, the temperate climate allows for an additional season.
Plant onion bulbs and greens, followed by squash, beets, green beans and carrots. Because the ground rarely freezes in these temperate climates, root vegetables may be grown almost year-round.
Herbs
Incorporate herbs into your vegetables garden as well. Plant rosemary and thyme, as these perennials will entice ladybugs and bees to your garden, both beneficial insects. Basil may be planted along with your tomato plants, and oregano is a good companion to both cucumbers and squash plants.
Days to Maturity
Any vegetable you decide to include in your garden requires a certain amount of time to mature and produce its vegetables. For example, the average length of maturity for varieties of zucchini is 45 to 55 days.
When planning your garden, calculate your harvest times according to the average days to maturity of your vegetables. Cool weather vegetables, referred to as cool crops, may require anywhere from 40 to 90 days to reach maturity. The longer the time required, the earlier in the season you need to plant.
For warm weather crops, plant so the vegetables will ripen before the cooler weather sets in, as cool nights may inhibit ripening and you may lose some of your vegetables.