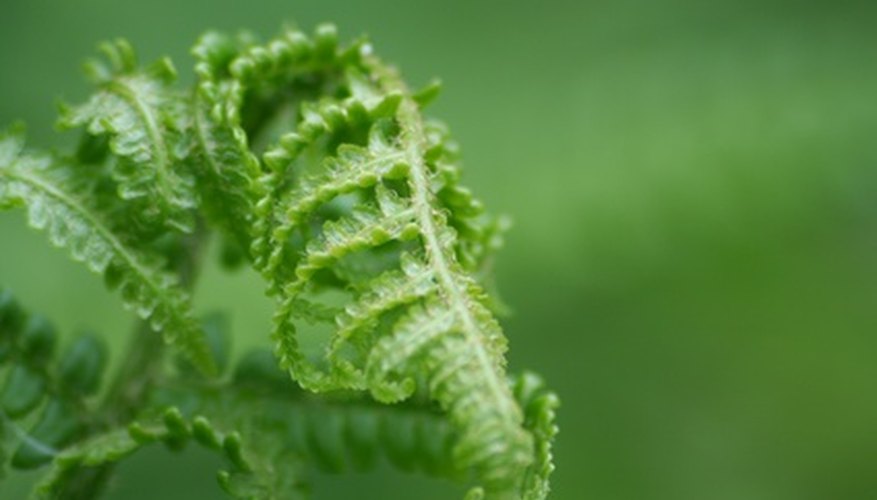 Gardening within the shaded areas of the landscape brings a refreshing, colorful touch to an oftentimes colorless and dark area of the garden. Adding color helps to contribute to the garden and accent surrounding plants. Many perennials grow well in shade such as beneath a large shade tree or under the canopy of the forest where light is limited. Shade perennials generally do best in well-drained, nutrient-laden soil.
Bleeding Heart
Bleeding heart "Alba" (Dicentra spectabilis "Alba") is an herbaceous perennial flower that thrives in shade. Growing 2 to 2 1/2 feet tall and 1 1/2 to 2 feet wide, bleeding heart has a clumping form that creates the 30-inch tall mound of dissected foliage. The fernlike leaves are pale green to contrast with the white flowers. The 1-inch white heart-shaped flowers on bleeding heart plants hang down along one side of the arching raceme that shoots above the foliage. According to Mobot Online, the "common name is in reference to the protruding inner petals of the heart-shaped flowers which purportedly resemble a 'bleeding heart.'" Bleeding heart grows best in well-drained, moist and humus-rich soil. They are intolerant of wet winter soil or dry summer soil. Plant bleeding heart in U.S. Department of Agriculture (USDA) hardiness zones 3 to 9.
Creeping Myrtle
Creeping myrtle (Vinca minor "Illumination") is an evergreen perennial ground cover with a rapid growth rate. Growing 6 to 12 inches long and more than 30 feet wide, creeping myrtle is an ideal perennial for full shade. Creeping myrtle is deer- and drought-tolerant, creating a tough vine variety. The foliage on creeping myrtle is bright gold with a deep green edging. The 1-inch wide blue funnel-shaped flowers emerge in spring to light up the vine with color. Creeping myrtle is an ideal vine to grow under a shade tree for bursts of vibrant color or added to a hanging basket for its pendulous form. It grows best in moist, well-drained soil. Plant in USDA zones 4 to 9.
Southern Maidenhair Fern
Southern maidenhair fern (Adiantum capillus-veneris) is a perennial fern that grows in upright clumps and thrives in a shady area of the garden. Growing 6 to 12 inches tall and 1 to 3 feet wide, southern maidenhair ferns have fluffy, fernlike foliage that is chartreuse. The fern fronds are held on pendulous clumps that hold the ruffled-looking leaves. They grow best in moist, alkaline soil that is well-drained. Plant in USDA zones 7 to 11.