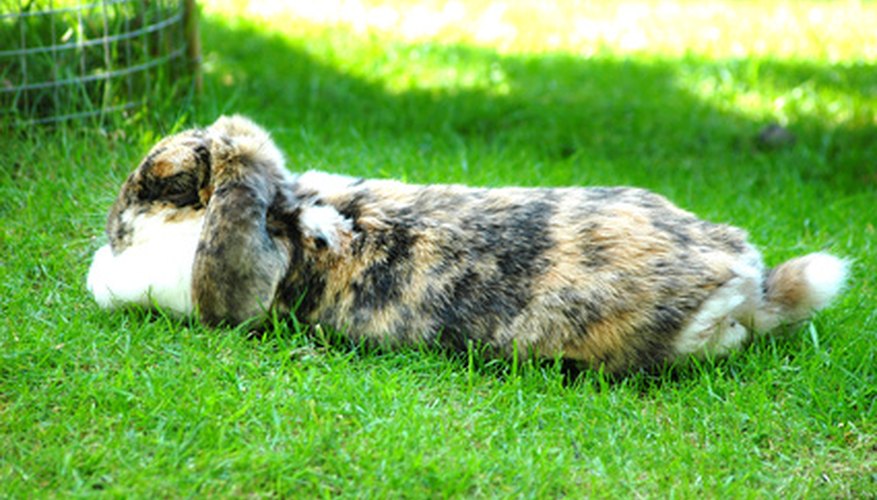 Rabbits can be an annoying part of having a garden. They may be cute little creatures, but not when they are eating up all your hard work. There are several steps you can take to keep these little munching creatures at bay. There is no rest for the weary, however, and you need to be ever vigilant to keep them out.
Set up a fence around the flower garden with chicken wire and wood stakes. Make sure that the fencing goes all the way to the ground and the wire is spaced no more than two inches apart. Construct it at least two feet high to keep rabbits from jumping over. If you are worried about the look of the wire, you can get green wire that blends in. For better protection, dig down into the dirt with a trowel and string a wire or two below the surface. Fill the dirt back in. This will keep rabbit from digging under.
Drop a few flakes of dried blood around the flowers every few days. The rabbits will be deterred by the smell. You can purchase the flakes as well as other rabbit deterrents at a farm or garden supply store.
Drop strands of hair around the flowers. The smell of humans scares some rabbits away. You can use your own hair clippings or collect it from a local barber shop. The hair blends in with the surroundings and is odorless to humans.
Drop pepper flakes or fox urine around the flowers. The odor is strong to rabbits and not only deters them, but also some bugs. Some suggest mothballs as well. You can try these, but for some reason they don't always work, and their odor defeats the purpose of having sweet-smelling flowers. Be sure to keep children away from the mothballs.
Grow clover and other plants that rabbits like in an area away from your flowers. Growing things that the rabbits like better may keep them away from your flowers. If you already have clover growing somewhere in your lawn, simply dig some up and plant it in an area far from your flowers. If you don't have any, dig it up from someone who is trying to get rid of it, or buy seeds at a feed and seed store or other supply location. Treat the clover as you would other plants you would want to live, by making sure it has light and water.
Things You Will Need
Chicken wire

Wood stakes

Dried blood

Hair

Pepper flakes

Fox urine

Trowel