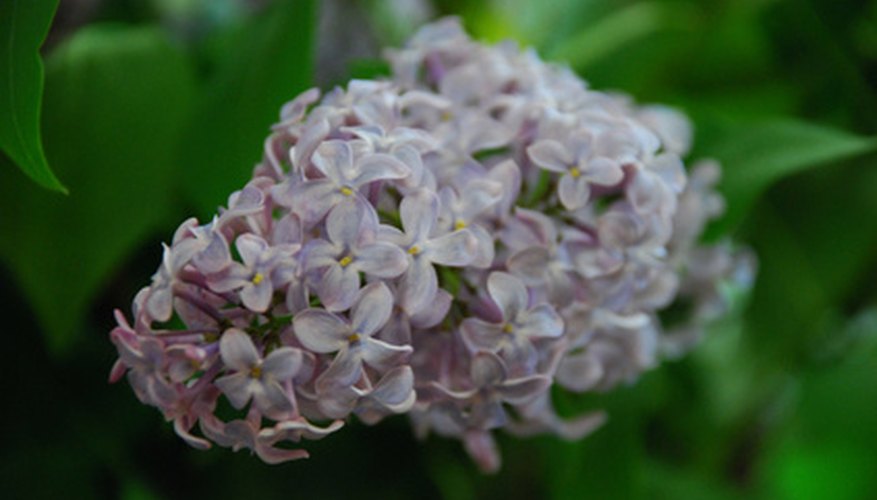 Lilacs shrubs are within the genus Syringa, which encompasses about 25 different varieties of lilac shrubs. Known for their fragrant blooms, lilac bushes are a quintessential spring-blooming shrub that creates classic hedgerows or specimen plants within the garden. Lilacs grow in well-drained, nutrient-laden soil that is neutral to slightly alkaline. Their flowers produce more blooms when old spent blooms are promptly deadheaded. Beloved for colorful blooms, lilacs make striking bouquets.
Early Lilac
Early lilac (Syringa oblata), a variety of lilac bush, is a deciduous shrub. Growing 10 to 12 feet tall and 8 to 10 feet wide, early lilac bushes have medium texture and an upright form. The fragrant flowers appear on 2- to 5-inch-long panicles that emerge in late spring. The pale purple to white flowers are broad and clustered along each stem. Early lilac shrubs have simple oval shaped leaves that grow 2 to 4 inches wide and 3 inches long. Ranging from dark green to blue green, the foliage on early lilacs change to a red and purple during fall. Early lilac shrubs require full sun to afternoon shade and well-drained soil that is loose. Plant early lilac shrubs in U.S. Department of Agriculture (USDA) Hardiness Zones 3 to 6.
French Lilac
French lilac (Syringa vulgaris) is a deciduous shrub with medium to coarse texture and an upright form. The stiff, ascending branches on French lilacs hold the clusters of bright and very fragrant blooms. Ranging from white and cream to pink and purple, the spring-blooming flowers are single to double in form. Growing 8 to 15 feet tall and 6 to 12 feet wide, French lilac shrubs have heart-shaped foliage that is dark green to blue and ranges from 2 to 5 inches long. French lilac shrubs require full sun to part shade and a range of soil varieties including heavy soil. Plant in USDA zones 3b to 7.
Meyer Lilac
Meyer lilac (Syringa meyeri) is a slow growing deciduous shrub with medium texture and a dense, broad shape that is rounded in form. Growing 4 to 8 feet tall and 6 to 10 feet wide, Meyer lilac shrubs are ideal grown in masses along a front yard or backyard patio. Their 4-inch, fragrant pale violet panicles light up the shrub in spring for a showy garden display. Their dark green leaves grow just under 2 inches long. Meyer lilac shrubs require full sun to part shad and well-drained soils to thrive. They do not tolerate wet planting sites. Plant in USDA zones 4 to 7.