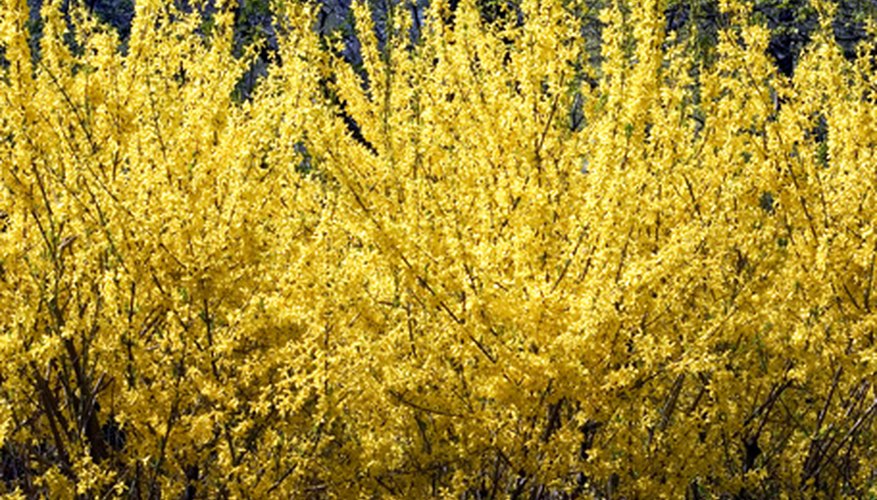 Shrubs add depth, color and focus to a landscape. There are many varieties from which to choose. The ones that are best will suit your location and needs best. Choose your shrubs based on color, density, height and climate along with incorporating several different levels of shrub to create a visually complex and appealing frame for your property.
Azalea
For color, this shrub is on top of the list. It comes in red, pink, white, yellow and orange. It grows up to 15 feet tall. Use azalea as a wall shrub to split up space, as a barrier wall to add privacy to patios, porches, yards or window areas. Azalea is hardy in USDA Hardiness Zones 6 to 8 and thrives in full sun or partial shade. For a shorter, bushier variety of azalea plant Palestrina that only grows as tall as 4 feet with petite white flowers or Cornell pink for a short shrub with pink flowers. These shrubs make beautiful borders. All azaleas bloom in the spring and summer.
Evergreen
Evergreens are a perennial favorite because they never die off. They provide green beauty to a landscape, even in the dead of winter when all else is in hibernation until spring. Evergreens come in many size varieties and several types of leaves. Evergreen leaves are a needle that can be broad or thin, sparse or thick, green or colored. Some evergreens bloom with flowers as well. Boxwood evergreens are excellent boarder shrubs because they are dense enough to keep pruned short while keeping a full appearance. They do well in all climates and remain hardy well below zero degrees in winter. If desired, the boxwood will grow up to 9 feet and keep its full, thick looks.
Roses
Roses are an ornamental shrub. They produce beautiful cutting flowers for the home or a visual appeal from their bouquet. Roses are the symbol of romance, and rose shrubs well placed in a landscaped yard draw focus to the area. They come in dozens of colors including white, blood red, pink, peach, chocolate, yellow and even black.