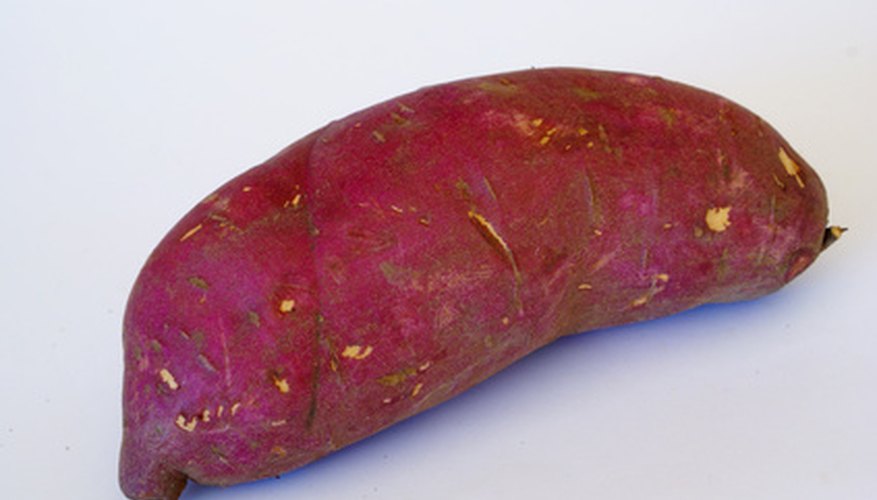 Sweet potatoes can be rooted and grown into attractive house plants. As they grow, they form a long vine that resembles an ivy. A sweet potato vine or ivy can be planted in a container or hanging basket and allowed to spill over the sides of the container or as a ground cover. The leaves can be purple, burgundy or bright green. Sweet potato vine plants are drought tolerant, but often wilt in the heat of the day, so additional water is sometimes necessary to keep them looking their best, especially if they are planted in a container.
Find a sweet potato that has several buds or "eyes" located in various locations on the potato. The buds may be only small, rough, raised areas or bumps on the potato skin. A medium-sized potato is best. The quality of the vine, or ivy, will not be better if the potato is large.
Locate a glass or jar that is wide and deep enough so two-thirds of the potato can sit in the glass with one-third of the potato above the rim of the glass. Also, it needs to be deep enough so there is a 1-inch clearance between the bottom of the container and the bottom of the potato.
Push four toothpicks into the sides of the sweet potato to allow it to be suspended over the bottom of the container with the pointed side down. Remember to leave 1 inch of space between the bottom of the potato and the bottom of the container. Fill the container with water to within 1/4 inch of the rim once the potato with toothpicks stuck into the side is situated in the container.
Keep the water level in the container constant. In a few weeks, roots will appear below the water line and green plant shoots will appear above the water.
When the green shoots get 6 inches long, gently slice them off the potato with a sharp knife just below the point where they are attached to the potato. To be sure you are getting the entire shoot, or slip, cut off a piece of the potato the size and width of a dime along with the vine.
Place the root end of the vine in a well-draining container filled with damp potting soil, leaving the top 3 inches exposed. Keep the potting soil damp until the vine or ivy is rooted. You can plant several vines in the container to make it fill out faster.