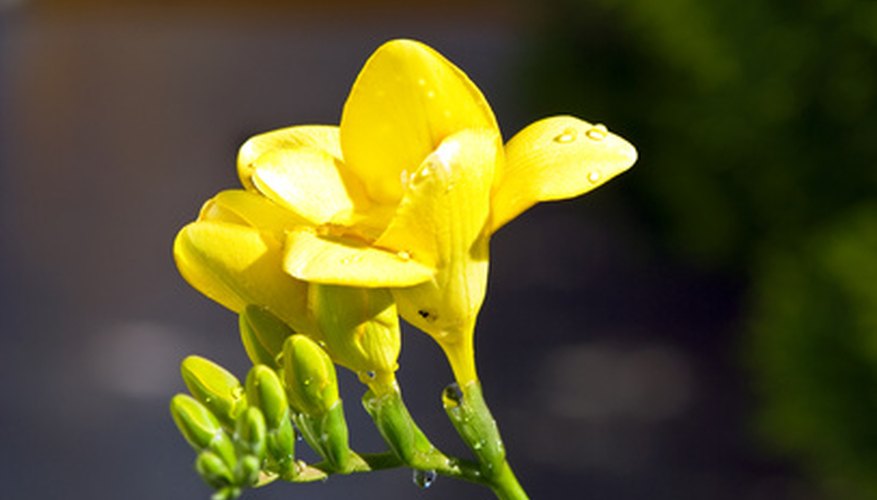 The spring blooming freesia belongs to the plant family Iridaceae. A florist favorite, the plant produces fragrant blossoms in shades of red, white, bluish-purple, yellow, orange and pink. The freesia is native to South Africa. Sixteen varieties of freesia plants are recognized, with hundreds of hybrids available. The freesia grows well outside in the garden or indoors as a houseplant.
Corms
The freesia grows from a bulb known as a "corm." The conical shaped corms spread easily in the garden. Corms blossom only once indoors and will not bloom again. When grown outdoors, the corms produce offshoot corms and continue blooming spring after spring.
Flowering
The freesia flowers, known as zygomorphic blooms, grow along only one side of the plant's stem and are spaced in a single line. A plant produces two to eight flower-heads per stem. Each blossom appears cone-shaped as it points up from the stem. The flowers open up in sequence during the spring months. Hard, round seed capsules appear after flowering. Each capsule contains tiny seeds.
Planting Location
The freesia does well in full sunlight with well-drained soil. It can grow in moist soil conditions but will not tolerate standing water. Standing water causes the corms of the plant to rot. Freesias grown indoors require ample sunlight. Place the plant container in a south-facing window.
Dormancy
In late summer, the freesia's foliage begins to turn yellow and wilt. This is a sign the freesia is entering dormancy for the winter. The plant's foliage can be safely trimmed, and a layer of protective mulch should be placed over the ground to protect the corms during the cold winter months.
Division and Propagation
Every three or more years, the corms of the freesia become crowded as they multiply. The plants' blossoming will be affected if they do not have ample room. Dig up the corms in the fall and divide them. The freesia corms handle division and transplanting well. The freesia also propagates well from seeds.