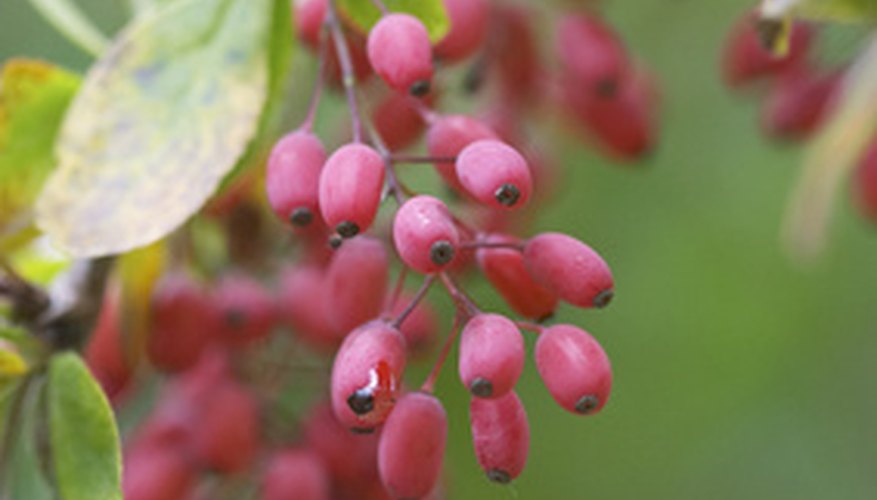 The barberry (Berberidaceae) family of plants includes more than 660 plant species, according the University of Wisconsin's Botany Department. Common in temperate regions of the Northern hemisphere, they include evergreen and deciduous shrubs and perennial herbaceous plants. Nearly all of them have yellow flowers with six petals arranged in a pair of circles, and fleshy purple, yellow, blue or red berries. Barberry shrubs usually have thorns.
Mentor Barberry
Mentor barberry (Berberis x mentorensis) is a hybrid shrub hardy to -30 degrees F. Standing between 5 and 7 feet high and wide, it has oval, 1- to-2-inch leaves with deep green surfaces and lighter undersides. Where winters are cold, they become attractive shades of orange, red or yellow during autumn. Mentor barberry may be evergreen where winters are mild. In April and May, according to the Missouri Botanical Garden, the shrub's stems have short spikes of 1/2-inch pale yellow flowers. A hybrid, this barberry may produce little or no fruit.
Although generally resistant, mentor barberry is vulnerable to some diseases and pests. They include rust, root rot, mosaic virus, aphids and webworms. Use it as a low-maintenance hedge or foundation plant, in shrub borders or in a grouping. Plant in full sun--for maximum autumn color--to partial shade. Give it dry to averagely moist, well-drained soil.
Japanese Barberry
Japanese barberry (Berberis thunbergii), a deciduous shrub native to Japan, withstands temperatures as low as -30 degrees F. Relatively small, it grows between 3 and 6 feet high and 4 to 7 feet wide. Densely twigged, it has green or greenish-blue oval leaves. It provides orange, purple or red fall color. In late April and May, Japanese barberry's spiny branches produce drooping clusters of small yellow flowers. Red berries ripen between mid-summer and autumn and provide food for birds well into winter.
Japanese barberry may suffer from rust, wilt or root rot. Use it as an accent foundation, border shrub or hedge, recommends the Missouri Botanical Garden. It grows in average, well-drained, dry or medium-moist soil and full sun or partial shade. Drought, heat and pollution tolerant, it dislikes poorly drained, wet locations.
Creeping Barberry
Evergreen creeping barberry (Mahonia repens) has holly-like foliage. Its spring and summer soft green color take on delicate tones of rust, orange or rose in the winter, according to the Lady Bird Johnson Wildflower Center. Creeping barberry stands between 1 and 3 feet high and makes an excellent ground cover for shady areas. Its drooping spikes of fragrant flowers, blooming from April to June, give way to purple berries. Plant in partial shade and acidic (ph below 7.0), rich, well-drained sand, loam or chalky soil. It suffers in drying winds or hot weather.