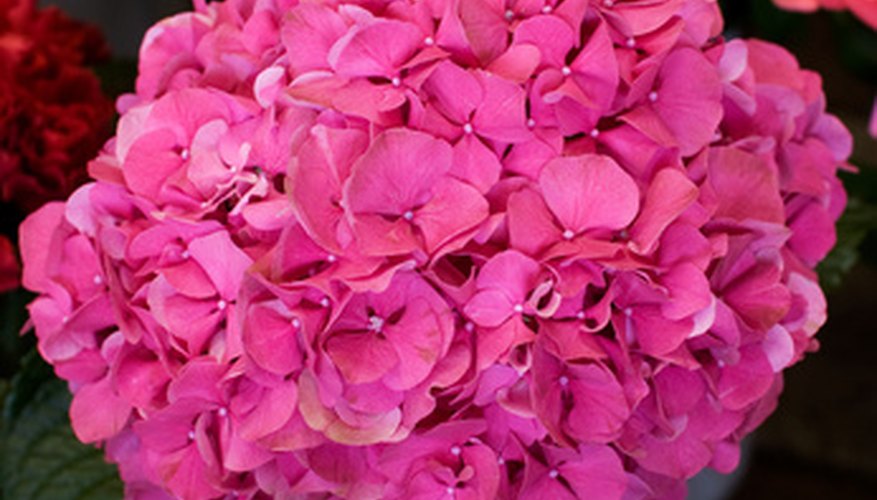 Perennials are outdoor plants that continue to grow over several years. While annual plants bloom, set seed and die in a single gardening season, many perennials die back or lose their leaves in the fall and re-emerge or leaf out again in spring. Others are evergreens, providing year-round garden foliage. Trees and outdoor shrubs are woody perennials. Many spring, summer and fall-blooming flowers are herbaceous perennials.
American Elder
A deciduous outdoor shrub, American elder (Sambucus canadensis) stands between 5 and 12 feet high and spreads up to 10 feet wide. The elder is hardy to minus 40 degrees Fahrenheit, and has eye-catching yellow to greenish-yellow leaves. Its large flat clusters of fragrant white flowers bloom in June and July. Edible, purple-red to black elderberries arrive in late summer or early autumn. They're popular ingredients in preserves, wine and pies. They also feed wildlife.
This shrub is susceptible to root rot, powdery mildew, spider bites, aphids and some other diseases and pests, cautions the Missouri Botanical Garden. Its somewhat fragile branches may snap off in high wind or under the weight of ice. Use American elder as a screening hedge or border shrub. It likes full sun--for best autumn color--to partial shade, and well-drained moist or wet soil. Soils high in humus are best. Prune weak branches in early spring.
Newport Cherry Plum
The Newport cherry plum (Prunus cerasifera) is a rose family shrub cultivar hardy to minus 30 degrees F. It normally stands between 15 and 20 feet high and wide. It has attractive, 2 1/2-inch leaves that mature from spring's bronze-purple to deep purple in summer, and become red in fall. Before the leaves emerge in April, Newport has fragrant, 1-inch white or pale pink flowers. Edible, small purple fruit ripens in summer. This shrub is vulnerable to a number of pests and diseases, including tent caterpillars, borers, leaf spot and canker, advises the Missouri Botanical Garden. Plant the cherry plum in small groups or as a specimen in well-drained, averagely moist soil. Give it full sun, and prune as needed after it flowers.
Starfire Garden Phlox
Starfire is a garden phlox (Phlox paniculata) cultivar and herbaceous perennial that grows up to 3 feet tall and 2 feet wide. The clump-forming plant has vivid red, fragrant tubular flowers from July to September. Individual blooms open in large, conical clusters at the tops of erect stems. Stems have deep green, lance-shaped leaves up to 5 inches long. Traditional favorites for perennial beds, all varieties of garden phlox bring hummingbirds to the garden.
Phlox also attracts spider mites in hot, dry summers and may develop root rot in excessively moist conditions. Plant garden phlox in organically rich, moist soil and full sun or part shade, recommends the Missouri Botanical Garden. Water from beneath during dry periods, and provide root-cooling mulch.