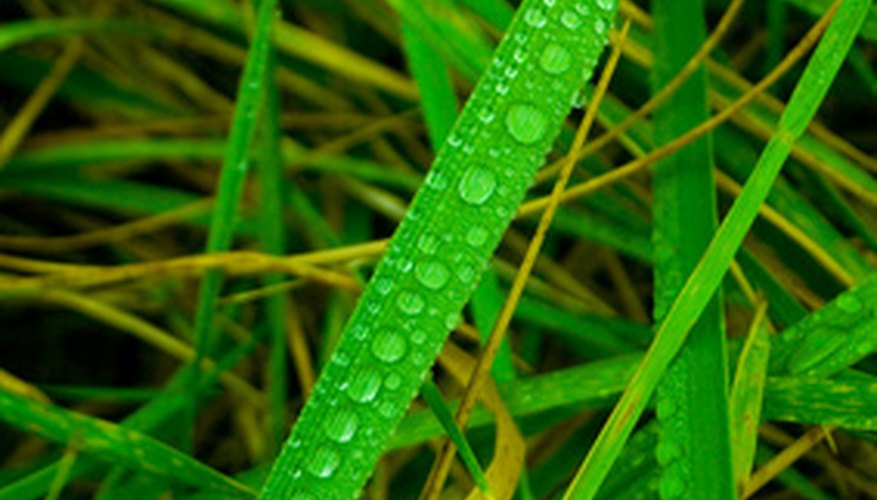 St. Augustine grass is a favorite choice in warmer, coastal climates. It grows well in a variety of soil types, creating a lush, vibrant, thick lawn. However, the species does have problems that may lead to the necessity to patch some spots. It doesn't cope well with freezing temperatures and dies if planted too far north. St. Augustine is also prone to many pest issues, spongy turf and turf buildup. To patch St. Augustine grass, you need to get rid of the dead grass and replant seed to fill in the spots.
Run a metal rake over the dead patches of St. Augustine grass. Remove as much of the old grass as possible. Get rid of weeds and other debris such as stones. You want a clean planting area, because the new grass seed needs to touch soil to germinate.
Rototill the patches to loosen up the compacted soil. Dig the machine at least 4 to 6 inches into the ground.
Spread 1 inch of peat moss or topsoil into the patches. This adds nutrients to the existing dirt. Combine it with the rototiller.
Fill a hand spreader or mechanical spreader with St. Augustine grass seed. See the seed bag for instructions on how much seed to use. Use the hand spreader if patching small areas and the mechanical spreader for large spots.
Put a layer of straw on top of the grass seed if your region gets heavy rain. Otherwise, run the back of the rake over the seeds to cover them with 1/8 to 1/4 inch of soil to encourage germination.
Step down gently on the seeded patches to press them into the ground. Keep them consistently moist until they form roots, which normally takes 10 to 14 days.