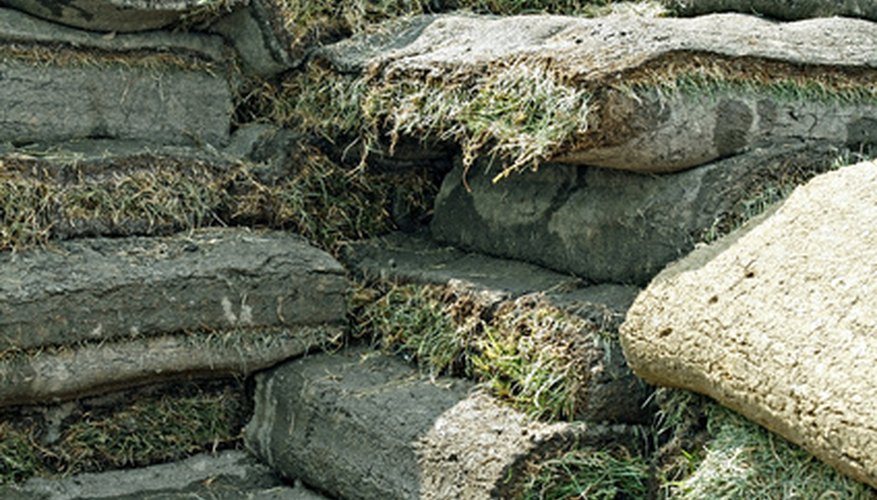 sod-cut pieces image by Jeffrey Zalesny from Fotolia.com
The appeal of choosing sod over seed for a new lawn in Calgary is the speed. It can snow into late May in the Alberta city and no month is guaranteed frost-free. To quickly establish a new lawn, sod is the frequent choice. The next decision is whether to have the sod company lay your new lawn or to do it yourself. For those who choose the DIY route, there are some ways to give your new lawn a good start in Alberta's largest city.
Sod Preparation
Add screened loam and compost to a 15cm (6-inch) depth to condition the soil and supply the new grass with needed nutrients. Slope the soil away from your house and remove fist-size and larger rocks or other debris. Rake smooth, then pressure-roll the area with the roller to level the ground and provide a good base for the sod.
Lay sod in the spring or fall when temperatures are cool and humidity is high. Use it within two days to prevent drying out. Start along a straight areas like a path or street and lay the full width around the edges. Overlap the rows slightly. Use a sharp knife to trim sod to fit in the middle.
Pressure-roll the sod with the roller after laying it to level the lawn area and eliminate air holes or hills.
Sod Care
Water new sod for one hour in the morning and another hour in the evening for 10 days. Calgary has warm summers and winds that can dry out the new sod quickly. Inspect new sod for any dry areas and give them extra water. Water alternate days after two weeks if the new grass is green and healthy. Reduce watering to an hour and a half every five days once new growth starts. Water established lawns 2 1/2cm (1 inch) once a week in Calgary.
Apply fertilizer four weeks after installation if the type of sod you bought was treated with root starter at the sod farm. Give new lawns controlled-release lawn fertilizer with a ratio of 10-30-10 (nitrogen-phosphorus-potassium) for good root growth one month after laying the sod.
Mow the lawn when the grass is 7cm (2 1/2 inches) high to a length of 5cm (2 inches) for the first year.
Things You Will Need
Rake

Roller

Compost

Screened loam

Knife

Fertilizer
Tip
Thick sod is preferable because thin sod will dry out. Inspect it when it arrives to make sure the root system is well-established. Look for a mix of Kentucky bluegrass and creeping red fescue to get a dark blue-green color and good coverage.
Warning
Keep traffic off new sod with signs or rope for at least 10 days after installation to allow the soft soil to settle and grass to become established. When inspecting the lawn, tread carefully, especially around wet areas.