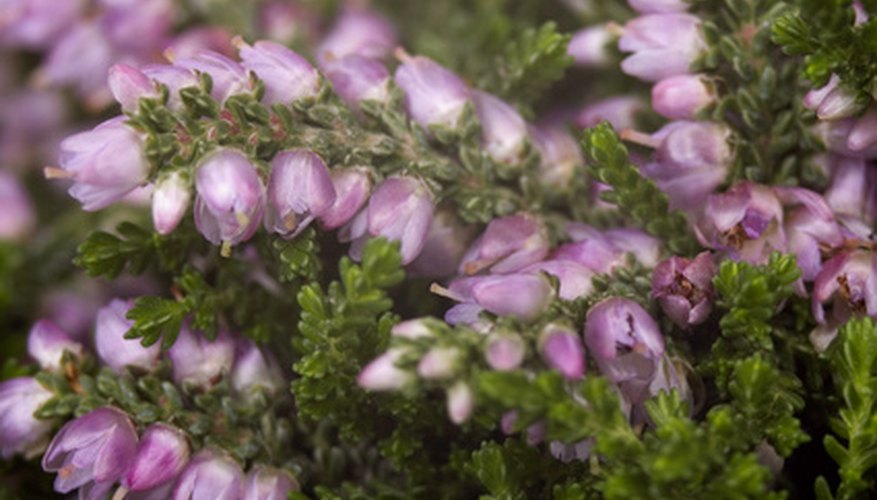 When majority of the plants become dormant during the winter, some plants thrive, germinate and bloom. These winter-blooming flowers last through the winter and into early spring. Some of these flowers add fragrance and color in the dead of winter, when most surrounding vegetation had turned brown or leafless. In December, these flowers add curb appeal and become part of outdoor holiday decorations.
Dawn
Also known as 'Charles Lamont', 'Dawn' (Viburnum x bodnantense), is a deciduous, rapid-growing, upright shrub that grows up to 10 feet tall and spreads up to 7 feet wide. A cross between Viburnum grandiflorum and Viburnum farreri, Dawn thrives in USDA Hardiness Zones 5 to 8. It has glossy, deep-green leaves that turn orange, red and purple in fall. Numerous, densely packed clusters of rose, pink or blush white blooms measuring up to 3 inches in diameter appear from October to March. Cutting a few sprigs of these frost-resistant, sweet-smelling flowers can last a long time indoors. Planting dense hedges behind Dawn will make the flowers more visible and attractive.
Dawn prefers partial to full sun. Water regularly during the first growing season to help establish a deep, extensive root system. Dawn needs thinning, but harder pruning in spring after flowering will keep it compact. Feed with a general purpose fertilizer in spring before new growth begins. Taking cuttings in summer helps propagate Dawn. Dawn is deer-resistant.
Winter Jasmine
Winter jasmine (Jasminum nudiflorum) is a fast-growing, strong-climbing, arching, evergreen shrub that grows up to 15 feet tall and spreads up to 10 feet wide. Exhibiting irregular growth habit, winter jasmine thrives best in USDA Hardiness Zones 6 to 9. Oval, deep-green leaves appear in groups of five to seven leaflets each measuring up to 1 inch long. Fragrant, yellow, tubular, showy flowers measure up to 3 inches long and up to 1 inch across. Flowers bloom from November to March and may continue sporadically throughout the year.
Tolerant to heat and humidity, winter jasmine prefers partial to full sun, sandy loam or clayey soil. It prefers normal to moist soil. Give at least 1 inch of water per week, allowing slight drying between watering. Add compost to the soil to help improve texture and water-holding capacity. Fertilizing monthly with a balanced fertilizer will keep winter jasmine healthy.
Heather Saint Nick
Heather 'Saint Nick' (Calluna vulgaris), also known as Scottish heather, is an evergreen, slow-growing shrub that grows up to 2 feet tall with a spread of 2 feet wide. It has densely ascending branches that produce opposite, simple, medium-green leaves that exhibit bronze or purplish tinge during fall and winter. Thriving best in USDA Hardiness Zones 4 to 6, Heather Saint Nick blooms from December to January, but may bloom sporadically all year round. It produces very few, pinkish purple or mauve flowers measuring up to 1 inch across.
Heather Saint Nick prefers partial to full sun in moist, acidic, sandy soil. This plant is attractive to bees, butterflies and birds. Avoid high heat or humidity, as well as heavy, clay soil. Prune annually in spring before new growth appears.