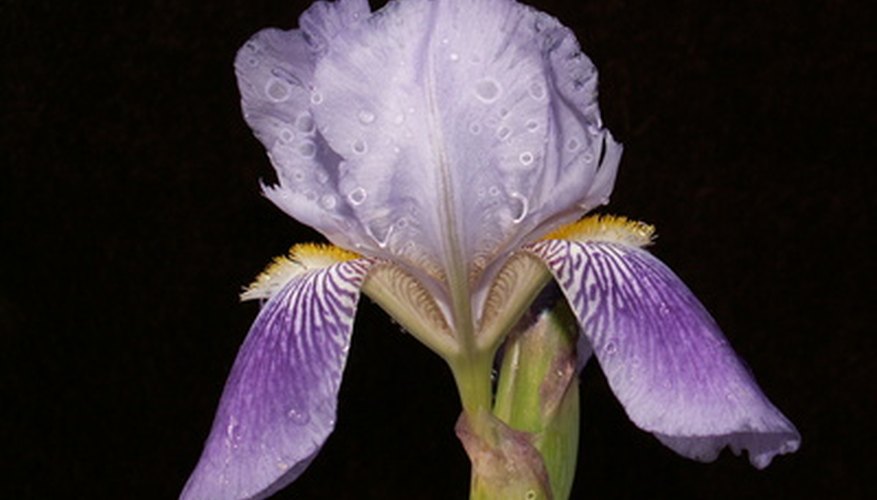 September is an excellent time to separate the iris, or the common man's orchid. The plant does best when transplanted to a well-drained soil with plenty of full sunlight exposure. Preparation of the new iris flower beds should be completed at least one week in advance of replanting the iris' rhizome roots. This amount of time allows the new bed to settle in the soil. According to the North Dakota Extension Service, iris plants should be divided every three years to four years to prevent overcrowding of the plant.
Dig new year's growth that contains a single division of the iris plant. This is typically a single fan of leaves that are growing from the ground.
Cut the upper leaves of the iris plant back to a height of 6 inches to 9 inches tall. Discard any weak or diseased portion of the plant.
Space the new transplant holes 12 inches to 15 inches apart, to form small iris plant clusters. The new transplants should be planted with four divisions to six divisions per cluster. Each iris cluster should be spaced approximately 4 feet from each other.
Place the division in a shallow hole that is just large enough to contain the root ball and any fibrous material attached to the rhizomes.
Cover the roots with 1/2 inch of soil. Press down around the roots of the plant to hold the soil in place.
Water the new plants into the location to remove any air from around the rhizomes and improve the root-to-soil contact. Keep the new iris transplants moist. Typically, fall rains will be more than adequate for keeping the roots growing. Add water during the winter months if a severe drought occurs.