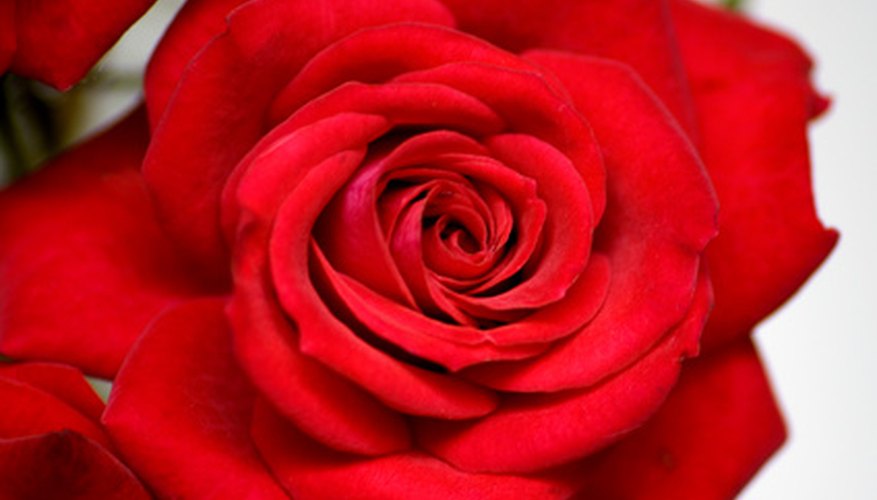 Like afternoon tea, gardening is an English tradition. English literature, paintings, and classic bone china patterns like Royal Albert's "Old Country Roses" celebrate tea and flowers. Queen Elizabeth II's annual garden parties on the grounds of Buckingham Palace in London continue to honor these fine English traditions, just as her subjects do in their own flowering gardens throughout England.
Roses
The rose is the national flower of England with a history going back to Roman times. Rose gardens are a more recent national pastime, rising to prominence from the Victorian era. The English middle class emerged then, with disposable income and the ambition to create a lifestyle in keeping with its newfound affluence. Genteel rose gardens were among the results. Other flowering legacies of history include the splendid rose gardens of England's famous castles, stately homes and botanical gardens, including Buckingham Palace and the Royal Botanic Gardens, Kew. The Royal National Rose Society Gardens of the Rose in Hertfordshire showcase the history of the rose through a collection that numbers in the tens of thousands, as well as different styles of planting. There are small model gardens to provide ideas for growing roses in small spaces, and informative new cultivar trials. The RNRS Queen Mother garden is a special tribute to one of England's most beloved rose gardeners, Queen Elizabeth--the late Queen Mother. English rose breeders like David Austin "combine the forms and fragrances of old roses with the repeat flowering of modern roses." Happily, these English roses are available in America through the company's operating base in Tyler, Texas. Rose bushes need ample clearance and at least six hours of daily sunlight. Planting them along a fence is ideal, and allowing at least 3 feet between bushes gives them enough room to grow unobstructed. Climbing roses can be an ideal way to create a private garden, if you train them to fill in a chain link fence, or a strategically placed trellis or arbor.
Wildflowers
While the nation shares the rose emblem, many English counties have their own wildflower emblems, too, honoring England's diverse wildflowers. These wildflowers and their counties include the foxglove (Berkshire and Leicestershire), jacob's ladder (Derbyshire), the poppy (Essex), the daffodil (Gloucestershire), heather (Staffordshire) and mistletoe (Herefordshire).
Bluebells
According to a poll by Plantlife (a charity to protect Britain's wildflowers and plants), the native bluebell (Hyacinthoides non-scripta) is Britain's most popular wildflower. The Natural History Museum conducts an annual bluebell survey tracking the bluebell species in Britain to counter the threat of hybridization.