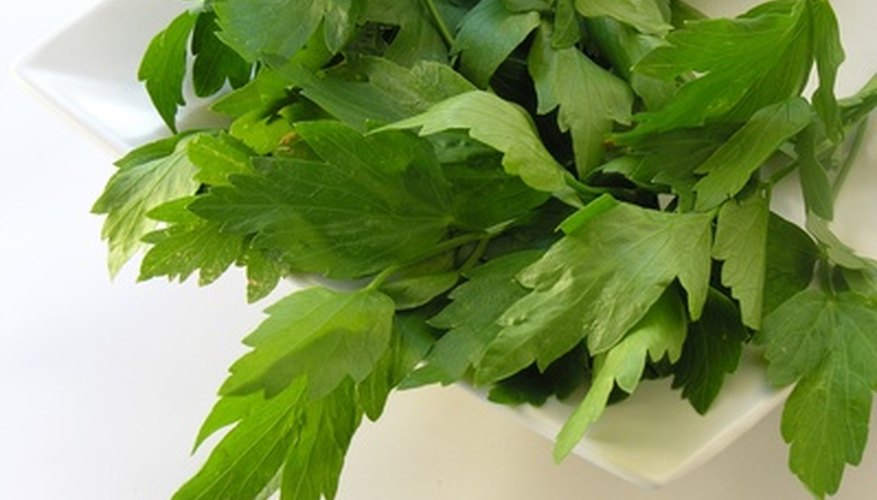 Herb gardens have many uses. They bring natural beauty to your landscape. They also add fragrance and flavor inside your home. Before you purchase seedlings and start growing your herbs, however, you need to take time to plan the layout of your herb garden. That way you are prepared for growth, harvesting and maintenance. Once you have your herb garden planted you'll start enjoying fresh herbs in a matter of weeks.
Write down all of the herbs you use regularly in your home for crafts or cooking as well as the herbs you want to try growing. Write a capital S, M or L next to your plants to denote size. Small herbs include chives, cilantro, parsley, thyme, oregano and spearmint. Medium herbs include basil, marjoram, some dills, tarragon and chocolate mint. Large herbs are rosemary, lavender, lemon verbena and sage.
Select an outside area for your herb garden that rests in full sun for at least six hours each day. Make sure it isn't prone to flooding or holding standing water after heavy rain. Measure this area and write down the future garden's dimensions.
Choose a shape or pattern for your herb garden that suites your tastes. Formal herb gardens tend to have straight lines and plantings in square or rectangle beds surrounded by well-laid brick or stone walkways. Casual and whimsical herb gardens can have meandering walkways through them with curved borders around spaced plantings. For a colonial or cottage style herb garden, create a borderless look of dense plantings with stepping stones instead of a defined path.
Draw the outline of your garden on graph paper using the measurements you have taken. Let one square on the graph paper equal a square foot in the garden. Shape the outline of your drawing to match your plans for the garden's style, making it a round, oblong, square or rectangular herb garden.
Choose where you will plant the herbs from your list. Keep in mind that you'll need approximately 2 to 3 feet between each plant. No matter what USDA hardiness zone you live in, plants labeled "L" on your list work best when planted along the northern end of your herb garden so they don't block sun for other herbs.
Group your plantings by whether they're annuals or perennials to make annual maintenance and planting easier. Set your perennials more toward the back or in harder to reach areas. Place annual herbs closer to pathways.
Dig the herb bed up to 1 foot deep, adding a few inches of compost or garden soil to your planting areas. Leave the walking path areas to become pressed down or lined with stone or pavers. Plant your seedlings according to your graph paper. Supply plenty of water to help your plants grow. Harvest herbs as they are ready.