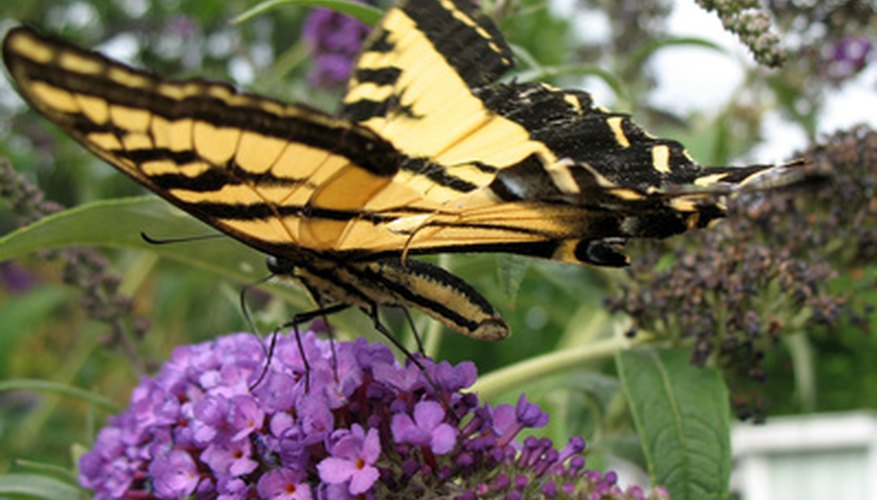 There are a number of attractive and easy to grow, nectar-rich plants that will attract bees and butterflies to your landscape. Many are wildflowers that can be planted by simply scattering the seed on the soil, and once planted, will return year after year. Whether you plant on a huge, open prairie or a small urban garden, you can plant flowers that will attract butterflies and bees to your garden.
Wild Lupine
Wild lupine (Lupinus perennis) is a spring-blooming perennial with sky blue blooms that bees and butterflies will love. Wild lupine isn't difficult to grow as long as the plant is exposed to plenty of sunlight, and once established, the plants will self-seed every year. Scatter wild lupine seeds on top of sandy soil after the first frost in autumn.
Stiff Goldenrod (Asteraceae)
If you want to attract monarch and viceroy butterflies to your garden, stiff goldenrod (Asteraceae) is a good choice. The rigid, upright stems with distinctive foliage and bright yellow flowers that boom in late summer and early autumn are also attractive to bees, and songbirds will dine on the seeds. Stiff goldenrod grows wild in prairie meadows, but can be planted in your garden in bright sunlight and well-drained soil.
Wild Columbine
The bright blooms of wild columbine (canadensis) are bound to attract butterflies and bees to your garden. Wild columbine will grow in poor, rocky soil as long as the soil is well-drained. Although wild columbine will grow in full sunlight, it will do best planted where the plant will be in the shade during hot afternoons. Wild columbine seeds can be directly seeded in the garden in autumn.
Wild Bergamot
Wild bergamot (Monarda fistulosa) is also known as "bee balm," which is an indication that the plant is especially attractive to bees. With its pink blooms that last from July to September, wild bergamot will also attract a variety of butterflies to your landscape. Wild bergamot is a tall plant that can reach up to 5 feet, and will do best in the back of your garden, or in a prairie meadow. Scatter the tiny seeds in a well-drained spot and full sunlight or partial shade in autumn.