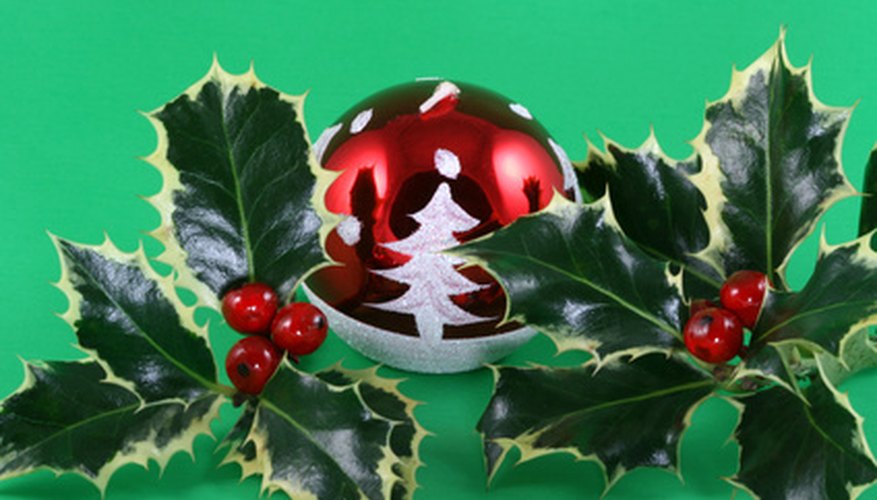 Bright red holly berries against fragrant, deep-green conifer branches are synonymous with the year-end holidays. Gardeners, however, can also enjoy the same eye-catching contrast in their home gardens with evergreen holly plants, says University of Rhode Island Master Gardener Cheryl Caldwell. Native to a number of countries, hollies grow as specimen trees or shrubs. Many of them also make attractive hedges.
English Holly
English holly (Ilex aquifolium), a broadleaf evergreen tree native to northern Africa, western Asia and Europe, normally stands between 30 and 50 feet high. Trained as a shrub, it reaches between 10 and 15 feet. It has shiny, deep-green, sharply toothed elliptical leaves up to 3 inches long. During May, it bears tiny, fragrant pale-green flowers. They give way to bright red--occasionally yellow or orange--berries. The autumn-ripening fruit remains on the trees into the winter, providing birds with food.
Use English holly, recommends the Missouri Botanical Garden, as a foundation planting, tall hedge or specimen plant. This holly variety does best in areas with cool summers and mild winters, like those of the Pacific Northwest. Even area needs protection from cold winter wind. Plant it in averagely moist, well-drained soil and a sunny to partly shady location. Both male and female trees are required for fruit sets.
Topal Holly
Topal holly (Ilex x attenuate) is a naturally occurring hybrid of two southeastern United States hollies, cassine and American holly. A small evergreen shrub or tree, it slowly grows 12 to 25 feet high and up to 18 feet wide. Commercial cultivars of evergreen topal holly have elliptical or lance-shaped 3-inch leaves. Their inconspicuous, greenish-white flowers bloom in April and May. Clusters of bright red, pea-sized berries that continue through the winter follow them, drawing birds to the plants.
Train as a small tree, or use as a foundation planting, specimen or hedge, advises the Missouri Botanical Garden. Male and female plants are required for fruit production. They like acidic (pH below 7.0), averagely moist, well-drained soil. Those in full sun bear the heaviest fruit, but all plants in warm summer climates benefit from afternoon shade. They also appreciate wind protection in severe winters. They may not survive temperatures below minus 20 degrees F.
Longstalk Holly
Longstalk holly (Ilex pedunculosa) is an evergreen shrub or multitrunked, short tree native to China and Japan. Standing up to 20 feet high and 15 wide, it's hardy to minus 20 degrees F. Its narrow, shiny green leaves may develop a yellow cast in extremely cold winters. Both male and female plants have white June flowers. Pollinated females develop long-stalked clusters of red berries in the fall. They stay on the tree into late autumn or early winter. Use longstalk holly, advises the Missouri Botanical Garden, as a specimen plant or informal hedge. It likes a sunny to partly shady location with medium, well-drained soil.