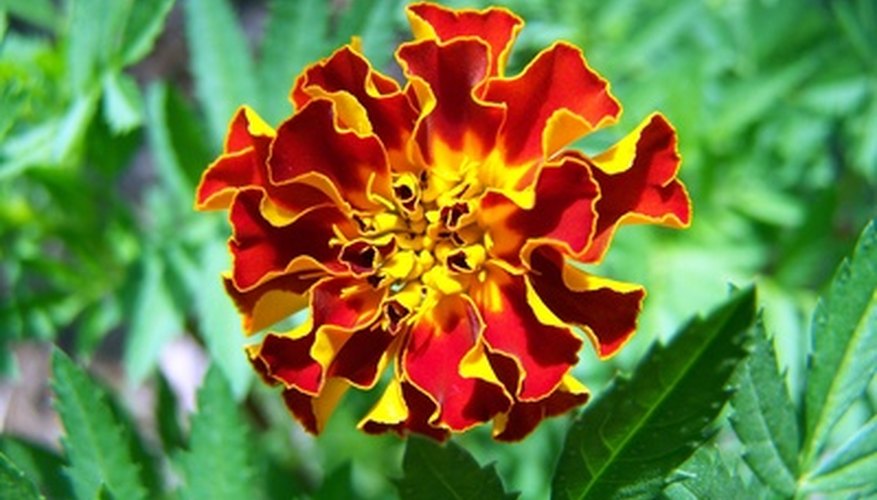 Gardening outdoors is an enjoyable and rewarding pastime, but not everybody has time to prune back unruly plants or make sure that the soil's pH is just right. Luckily for time-strapped gardeners, there are plenty of easy to grow outdoor plants that will look healthy with a minimal amount of effort.
Lamb's Ear
Lamb's ear (Stachys byzantina) is a low-growing perennial native to the Middle East. The plant is particularly common in Turkey and Iran, though it is cultivated throughout the world as a ground cover or border plant. Lamb's ear gains its common name from its foliage, which is silvery gray and fuzzy to the touch--like a lamb's ear. The plant grows best in USDA zones 4 to 7 and prefers full sunlight, with a little afternoon shade in hotter climates. Lamb's ear should be grown in well-drained soil that is watered frequently to keep it consistently moist. Lamb's ear requires very little care: just water often, and try not to get the downy leaves too wet.
French Marigold
A native of Mexico and Central America, French marigold (Tagetes patula) is a hardy annual that will thrive with very little care outdoors in USDA zones 9 to 11. The bushy plant sports rich, green foliage and clusters of flowers in colors ranging from pale orange to deep red and crisp, lemon yellow. French marigolds will grow in just about any kind of soil, and the plant requires only the occasional watering. A full sun location is ideal, although a little bit of afternoon shade is usually tolerated as well. French marigolds make excellent bedding plants and work well as container or border plants.
Shasta Daisy
Shasta daisy (Leucanthemum X superbum) is a garden hybrid member of the daisy family that sports blue-green foliage and sunny, white and yellow daisy blooms. Easy to grow and hardy, Shasta daisy will thrive in USDA zones 5 to 9. Shasta daisy does best in a well-drained, limey soil that is watered heavily during the growing season (and barely at all in the winter). Full sun is ideal for most Shasta daisy cultivars, though plants in zones 8 and 9 should have a little afternoon shade. The sturdy stem of the flower makes it perfect for bouquets.