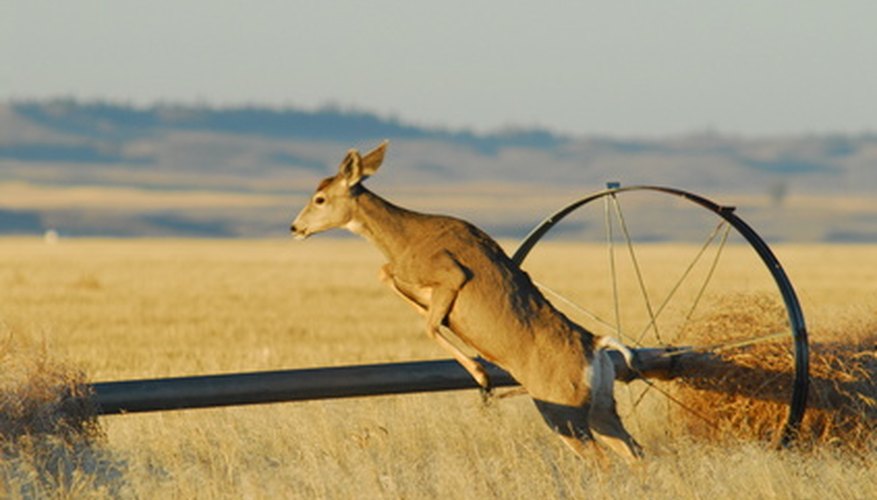 The mule deer and the white-tailed deer are the species found in North America. Although both of these deer live in woodland areas, they often are brave enough to come into suburban yards near these areas when they are hungry or thirsty. That's when the trouble can begin--deer can wreak havoc on your vegetable garden, fruit and nut trees. Because deer can jump almost eight feet, tall fences are needed to keep them completely out of your property. But you can build smaller, less expensive enclosures that work just as well as an extensive fence.
Build an 8-foot fence around your vegetable garden, orchard or entire property. Dig holes at 6-foot intervals where you want your fence to stand. Then set 10 or 12 foot 4 by 4 boards into the holes and secure them by adding quick-mix concrete. After the concrete dries, stretch heavy gauge wire, such as hog wire, around the entire fence area and attach it to your support posts with a hammer and nails.
Construct wire cages around individual trees. Cut a length of 8-foot-tall heavy gauge wire long enough to encircle your fruit or nut tree and then secure it into the ground by driving 2 or 3 wooden, metal or plastic stakes at least 1 foot into the soil.
Spread wire fencing on the ground around your vegetable garden or fruit tree—deer will not walk over any type of wire.
Build a shorter fence over tomato plants and others you know deer like to eat. Then cover the top with additional wire, which will prevent them for getting into the area where your plants are growing. Make your short fence tall enough to give access to humans.