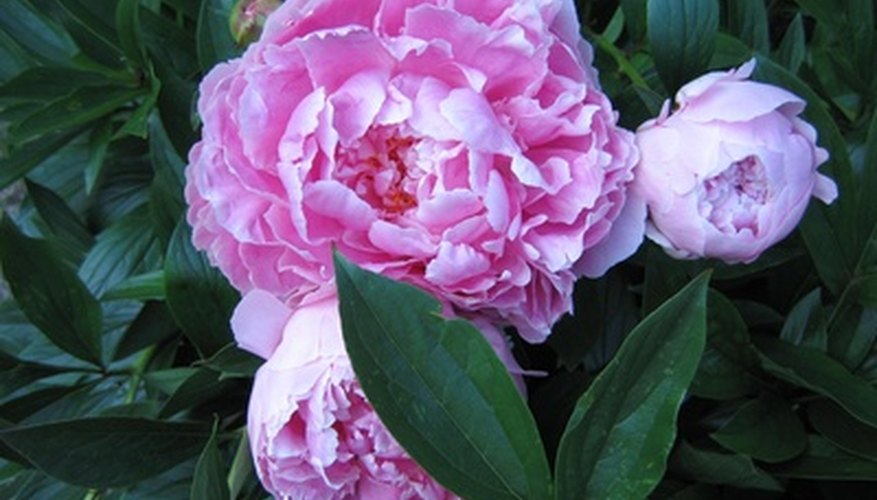 Peonies are best known for their large, ball-shaped blossoms, but these herbaceous perennials come in several shapes. The oversized blossom forms can be found in double, semi-double, anemone, single or Japanese styles. The flowers usually span a range of shades from the deepest red to pale pinks or white, but can be found in almost any color except blue. Peonies can be slow to grow, so if you prefer a quick show of similar flowers while you wait, consider trying one of these alternatives.
Hollyhock
Hollyhocks resemble single-blossom-form peonies. With hollyhocks, you get a larger number of flowers and create visual interest with the height of the tall spikes that bear the blooms. Gardeners will also enjoy a wider range of color options. Beyond the usual red, pink and white, the flowers come in purple, yellow and black. Single and double blooms are available in different varieties. This hibiscus relative is easy to grow, liking sun and good drainage. Hollyhocks will seed themselves; according to the University of Illinois Extension, this is a great benefit since the new plants have more flowers compared to older plants.
Rose of Sharon
For a shrub with flowers that resemble a smaller peony, consider rose of Sharon--another member of the hibiscus family. The plants bear single or double flowers and have a late period of bloom, for a striking summer centerpiece. The flowers come in white, pinks and reds, with blue and purple flowers also available. Rose of Sharon is tolerant of most soils--even salty soils and those of various pH. The plant can take full or partial sun and transplants easily.
Hibiscus
Hibiscus flowers also resemble the peony, but these are plants that cannot handle the cold temperatures of northern locales. Hibiscus plants should be grown indoors or brought inside before there is danger of frost. According to the University of Minnesota Extension, hibiscus is easy to grow, but it requires lots of full sun or bright light, moist soil and constant temperatures for a good bloom.
Azalea
Azalea blossoms come in forms much like the single, semi-double and double of peonies. The flowers vary in color from pink, red and white to lavender and even orange. The Alabama Cooperative Extension suggests Gable hybrids for colder regions of the country, Kurume hybrids for areas where a cold-tolerant variety is needed and Southern Indian hybrids for large flowers and fast growth. Glenn Dale hybrids have been created with many helpful characteristics combined, and these hybrids include some varieties that can produce late season blooms.