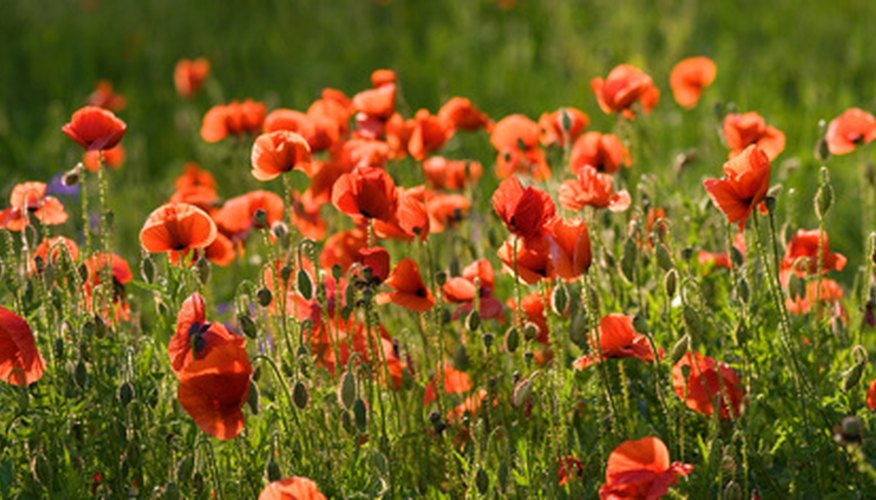 If you have seen the "Wizard of Oz," then you know how beautiful and vibrant a field of poppies is. You can achieve a similar look, although on a smaller scale, in your own garden. Once your seeds are well established, they are easy to care for, needing little water or care. Most poppies are annuals or short-lived perennials, and therefore should be planted outdoors after the last frost or indoors about a month sooner in planting trays. Fortunately, poppy seeds are easy to find and buy.
Decide which kind of poppy seeds you want to grow. The poppy seed from which opium is derived (Papaver sonniferum) is very likely to be illegal to grow in your area. Call your local police department to check, or just choose a different variety. The Oriental (Papaver orientale) and California (Papaver eschscholtzia) poppies are two of the most popular poppies to grow. Oriental poppies bloom for only about three weeks but have large pink, orange or red blooms. The California poppies bloom from summer until fall and have either single or double flowers in a multitude of colors including orange, red, violet and gold.
Calculate how many seeds to buy. Different varieties have different spacing needs and are planted anywhere from 8 to 18 inches apart. When growing from seed, you will need at least triple this amount because many of the seeds will not germinate. You can either plant your seeds in planting trays or scatter them in your planting bed (in which case you will need more seeds).
Purchase your poppy seeds in packets from your local nursery or purchase them online or from a nursery catalog.The Burpee company in Pennsylvania is one of the largest seed suppliers in the U.S. and sells poppy seeds online, in catalogs and in nurseries.
Resources