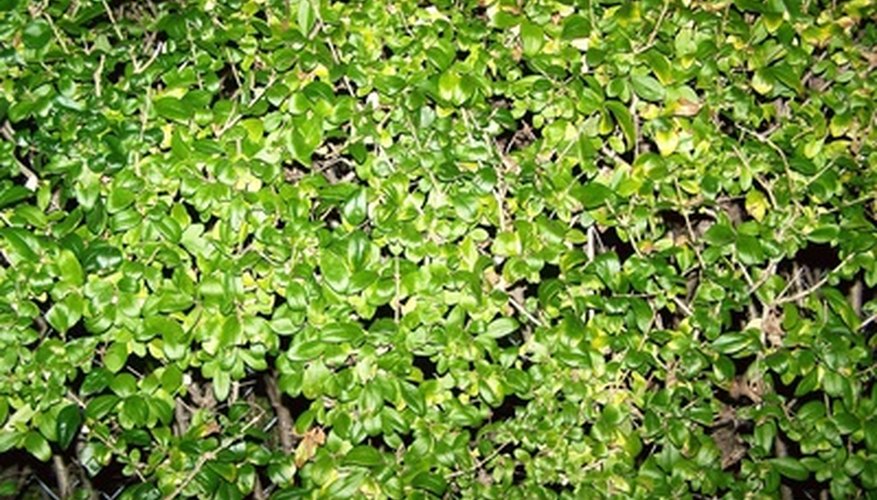 The privet, like the buxus (box), is a hedging plant used in gardens for hundreds of years. It is popular in both the United States and Britain because of its thick, dense foliage and anti-deer properties. It is pruned into aesthetic topiary forms, used as a boundary or privacy hedge or grown as a tree. While nature provides it the essentials, such as occasional rain and sunshine, the task of pruning it to maintain its shape, appearance and encourage thick new growth is left to gardeners.
Wear gloves and knot an end of garden string to a branch at the corner of the hedge. Extend it to the other end. Knot the string to a branch at this corner of the hedge, without pulling too taut. Leave a 1-inch of gap in the string, knot and trim excess off. This gap provides some leverage in case you get too zealous in your pruning efforts. Also knot a string to the other long side of the hedge, parallel to this one.
Snip off one-third of the older branches with loppers. This encourages sunlight to penetrate the interior of the hedge and reach the usually bare stems growing close to the ground.
Cut branches and leaves that protrude outside the string guideline. Use long-handled shears or an electric hedge trimmer and make smooth, sharp and quick cuts. Begin cutting wayward branches at the top of the hedge and work your way down.
Walk along one side of the hedge and continue trimming stubborn or wayward foliage. Hold the shears parallel to the foliage and snip off leaves that grow outwards to give the hedge an even appearance. After completing one side, start pruning the other side and then both the short sides.
Hold your shears parallel to the top of the hedge and snip leaves or stems that come in between. This ensures the top of the privet hedge is straight and even.
Assess your work. Walk along the hedge and review it, and prune any sections that you may have missed. Remove the garden string and collect clippings in a wheelbarrow to dispose of.