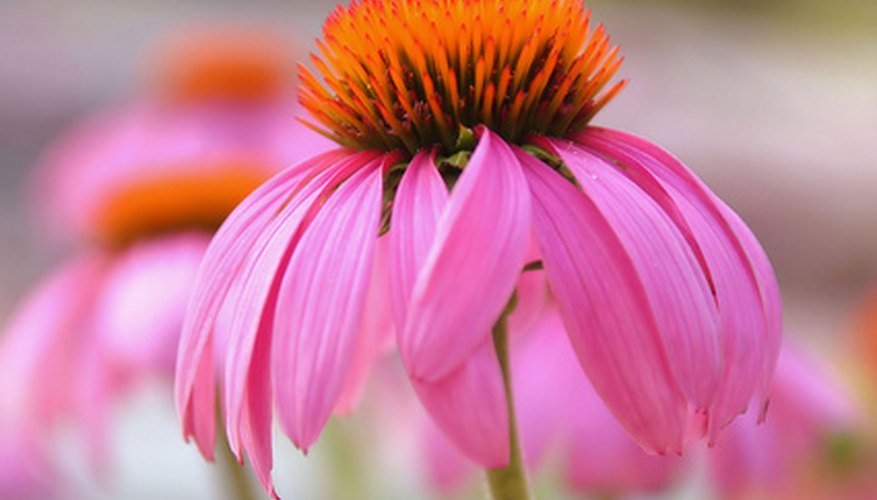 Summer is a time when the temperatures rise, and the sun beats down upon the garden. Many summer-blooming flowers also emerge to light up the garden with their bright blooms and unusual foliage. Oftentimes, summer flowers are drought-tolerant to withstand periods of limited moisture. They are a staple to a summer garden and as a perennial, have one-time planting to pop up year after year.
Purple Coneflower
Purple coneflower (Echinacea purpurea 'Bright Star') is a perennial flower that blooms from early summer into the fall, making for a long-lasting summer flower variety. Growing 1 to 3 feet tall and wide, purple coneflowers have a moderate growth rate and clumping habit. Drought-tolerant, purple coneflowers have purple daisy-like flowers that attract butterflies and birds to the garden. The 5-inch ray of petals surrounds a center cone that is copper to orange, resembling a small beehive. Purple coneflowers require full sun to part shade and well-drained, deep soil. Versatile, they are tolerant of poor soils, heat and humidity. To promote a long blooming season, deadhead the spent purple coneflowers as soon as they are noticeable. Plant purple coneflowers in U.S. Department of Agriculture Hardiness Zones 3 to 9.
Tickseed
Tickseed (Coreopsis grandiflora 'Baby Sun') is a summer-blooming perennial flower that grows in upright clumps. Growing 1 to 3 feet tall and wide, tickseed has a vigorous growth rate to produce blooms within the garden in a short period of time. The 2-inch wide golden yellow flowers have toothed edges surrounding the solitary petals and a contrasting deep orange center. Emerging in late spring, tickseed lasts through the summer to make an invaluable flower within perennial beds and borders. Tickseed requires full sun to part shade and well-drained, nutrient-rich soils to thrive. Deadhead regularly to promote a long flowering season. Plant in USDA zones 4 to 9.
Apricot Delight Yarrow
Apricot delight yarrow (Achillea millefolium 'Apricot Delight') is a perennial flower with flat corymbs or flowerheads that emerge in a deep apricot color to mature to a pale salmon pink. The finely textured foliage is fern-like and threaded to create a stunning contrast with the bright flowerheads. Growing 1 to 3 feet tall and in upright clumps, apricot delight yarrow emerges in early summer to last through the season. Divide apricot delight yarrow after it blooms to grow in other areas of the garden. They require full sun only and well-drained, moist soil. Plant in USDA zones 4 to 8.