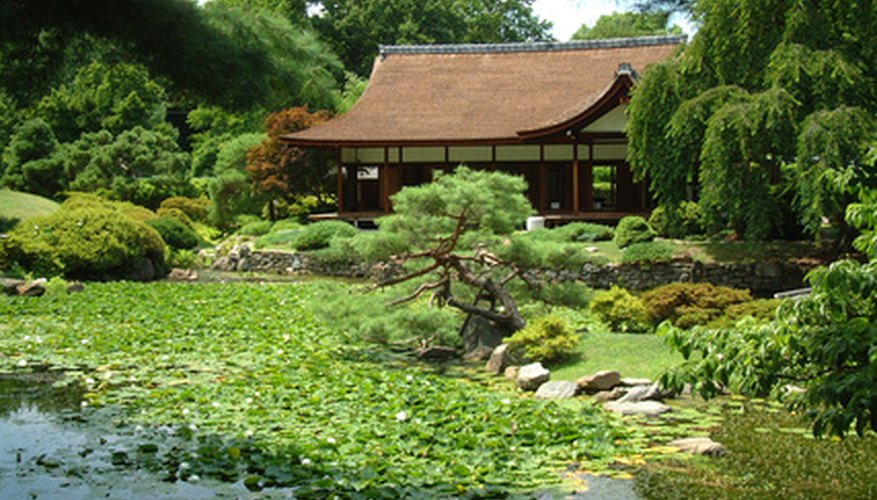 Japanese gardens commonly appear in private residences, public parks and historic and cultural landmarks, including Shinto shrines and Buddhist temples, in Japan and beyond. The overall atmosphere of Japanese gardens is serene, tranquil and simplistic. An authentic Japanese garden is made up of water features, stones and traditional Japanese plants.
Moss
Moss is known in Japan as "koke." It grows in abundance all over Japan. Moss is used as a ground cover and frequently appears in traditional Japanese gardens. In some cases, moss is the central theme of a Japanese garden. These gardens are known as "moss gardens" (or koke-dera in Japanese). Moss is intended to bring on a feeling of softness when used in these gardens.
Japanese Maples
Japanese maples (also known as Acer palmatums) are staples in traditional Japanese gardens. Japanese maples originate in Japan, and also exist in Korea and China. Japanese gardens often use the traditional green maple trees, as opposed to other more colorful varieties. The slow-growing trees are small and deciduous, and can grow to be anywhere between 15 and 25 feet in height. In terms of shape, the trees tend to be irregular or rounded.
Bamboo
Bamboo is a type of perennial evergreen that is part of the Poaceae family. Bamboo is common as an accent in traditional Japanese gardens. Bamboo is a woody plant that grows rapidly. The plant generally does not flower, and if it does, it is highly unpredictable. The plants frequently appear in botanical gardens. These plants thrive in soil that is well-drained and fertile, and are more prevalent in gardens located in warmer regions of Japan, because they require warm temperatures for successful growth.