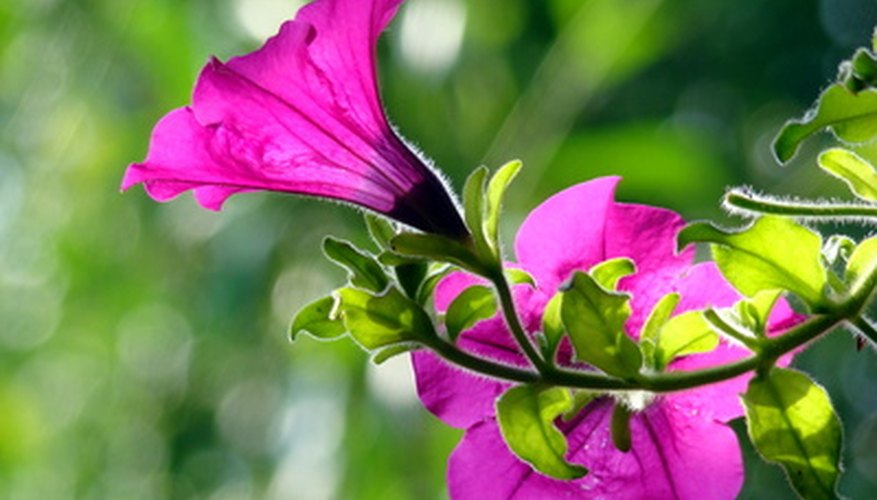 Gardeners don't need a large plot to cultivate an impressive flower garden. A cluster of containers placed on a patio will do the trick, as long as they allow for drainage. Buy similar pots, like terra cotta, to let the flowers take center stage, or invest in colorful pieces that will complement them. Choose flowers according to the available light conditions on your patio. Use well-draining potting soil and combine different flower species with similar light requirements in the same pots.
Geraniums
Geraniums are popular container gardening choices because they bloom from spring through frost, and in cooler climates they can easily be brought inside during the winter for continued growth the following year. These plants feature clusters of blooms at the ends of stems in hues ranging from soft pink to dark red. Some newer cultivars have been hybridized so the blossoms withstand strong wind and rain, the University of Rhode Island Landscape Horticulture Program says. Grow ivy-leafed varieties that will trail over a pot's edge, vivid-bloomed types such as Tango and scented varieties that vary in fragrance from cinnamon to lemon. Place geraniums in a patio area that receives full or partial sunlight.
Dwarf Zinnias
Zinnias prefer at least six hours of sun each day, so place the pots along the patio's edge. These annuals feature rounded, brightly colored flowers that are often used for arrangements. Cultivate a dwarf variety, such as tenuifolia, which has 1-inch wide scarlet flowers and grow up to 2 feet tall. Pinch off spent zinnia blooms regularly to encourage more flower growth and to keep each plant's appearance tidy.
Impatiens
Impatiens are a shade-tolerating annual, so they can be grown in pots that are nestled near patio furniture or to brighten a bare corner. Each plant grows up to 30 inches tall and wide. The flat blooms appear from early summer to fall, attract butterflies and come in colors such as salmon and lavender, and some varieties are bi-colored. Choose showy varieties for pot culture, such as Stars and Stripes and New Guinea Indonesian hybrids that feature leaves with red and yellow markings and interesting variegations.
Petunias
Petunias are one of the most popular flowering annuals, according to the University of Minnesota Extension. Grow a variety that is suited for container growth, such as multiflora and milliflora, which are both more compact and feature numerous smaller bell-shaped flowers. Place them in a patio area that receives at least five hours of sun each day and water them moderately; they are more tolerant of dry conditions and heat than other potted annuals. Petunias will drape over the edge of the pots as they mature.