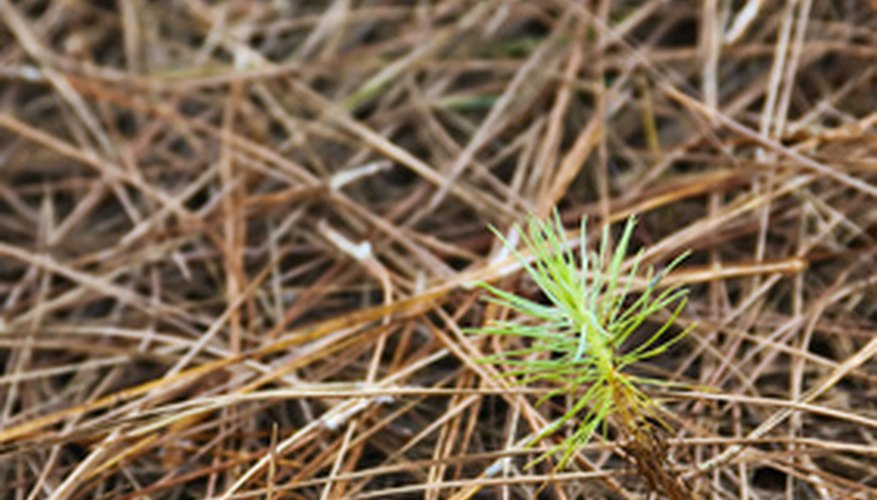 Tree seedlings come in two distinct types, bare root and container. The type will determine how you transplant the tree seedling. According to North Dakota State University, site selection and preparation may be different for each species of tree, regardless of bare root or container stock. Consult the nursery for correct site selection and preparation for each particular tree species.
Bare Root Seedling
Select the correct site location for the tree, according to nursery directions. In most cases, you should choose an area with good soil drainage and exposure to full sunlight.
Thrust the rock bar or planting bar into the soil at approximately a 10-degree angle. Push the bar to an upright position. The depth of the hole must be correct for the size of the bare root seedling. In most cases, a hole 6 inches to 8 inches deep will be satisfactory.
Remove the bar from the hole. Insert the bare roots of the seedling into the hole.
Push the bar into the soil, 2 inches from the planted bare root seedling. Pull the bar towards you to firm soil near the seedling's roots. Push the bar upright, towards the seedling, to close the top of the hole. This should fill in the soil around the bare root plant. Remove the bar from the second hole.
Stomp the soil in the second hole with your foot to fill it in. Push down around the seedling with the sole of your foot, to compact the soil around the bare roots of the newly planted seedling. Move on to the next bare root seedling planting location.
Container Seedling
Dig a transplant hole using the shovel. The hole must be two to three times the size of the container. Loosen the soil on all sides of the transplant hole.
Remove the root ball of the tree seedling from the container.
Set the top of the root ball slightly below the transplant hole soil line, approximately 1 inch.
Back fill around the seedling's root ball with native soil removed from the hole. Firm the soil around the root ball with your hands.
Water the new container-grown seedling immediately to remove air from around the root ball and improve soil contact. Keep the soil around the seedling moist. Check for adequate moisture every two weeks. Moisture needs will depend on species of tree. Consult the nursery for any specific watering instructions.