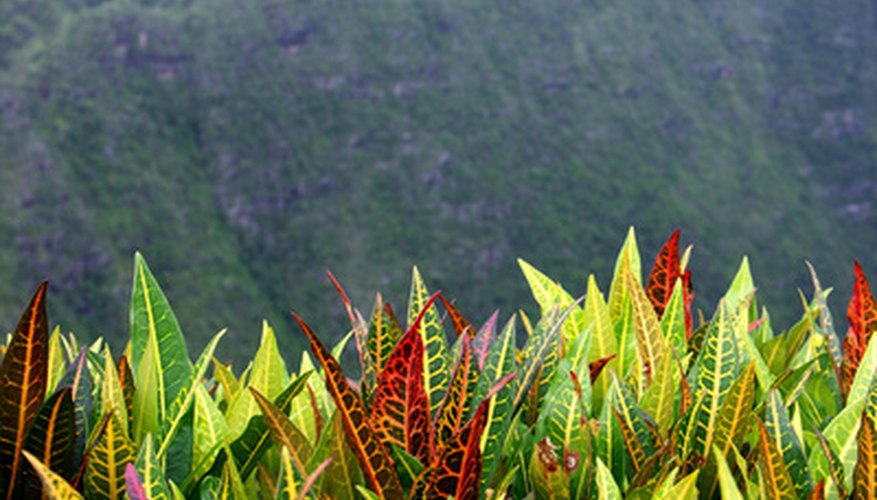 Crotons are tropical foliage plants. Usually grown as houseplants, these leafy beauties come in a wide variety of shapes, sizes and colors. Some have variegated leaves, while others have leaves that have one solid color on top, with a different color underneath. Many have broad, cut-out leaves, while others have long, slender leaves. Regardless of the cultivar, all make a stunning addition to a room, office or tropical landscape.
Gold Dust
"Gold Dust" is a variety that features rich, dark green leaves speckled with flecks of bright yellow. This gives the plant an appearance of being covered with gold dust. This compact, bushy croton needs at least six hours of sunlight per day to bring out the yellow color of the flecks.
Spirale
"Spirale" is a variety of croton from Thailand. These crotons are slow-growing, but feature very distinctive, twisted or curling leaves. The leaves of "Spirale" are long, slender and spiral, just as the name implies. They are colored red and green.
Majesticum
This variety is distinctive for its very long (up to 10 inches) leaves. These "Majesticum" leaves are dark green with bright yellow stripes that slowly turn red as the plant matures.
Andreanum
The "Andreanum" variety features wide, ovate leaves that are yellow in color with gold-colored veins and edges. This cultivar looks especially stunning in a shady location, where it adds a splash of golden warmth.
Picasso's Paintbrush
"Picasso's Paintbrush" is highly popular because it has leaves in many different colors on one plant. The leaves, which are long and very narrow, can range in shades from green, yellow, red and purple. In addition, each leaf has stripes of a contrasting color.