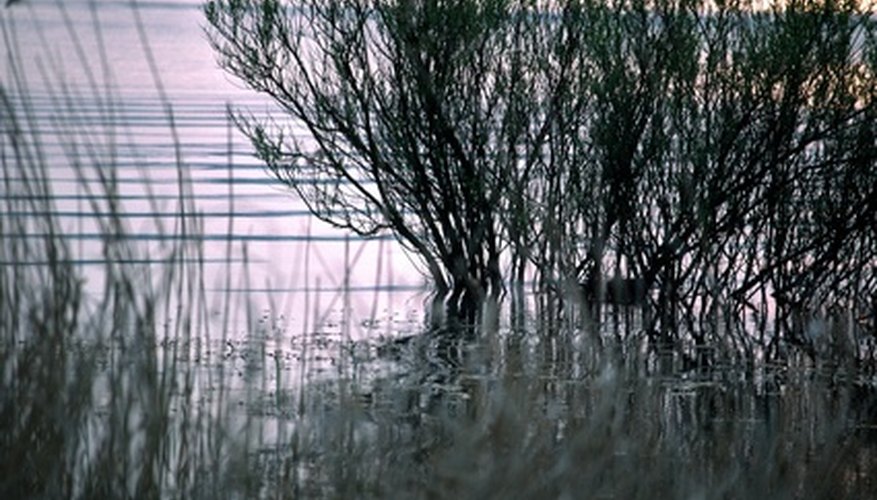 Very few shrubs can tolerate having their roots emerged in water for long periods. But there are a number of shrubs that can withstand wet soil year round. if you have standing water, it is important to correct drainage issues before installing plants. The only alternative is to create a bog garden using wetland plants.
Shrubs with Colorful Twigs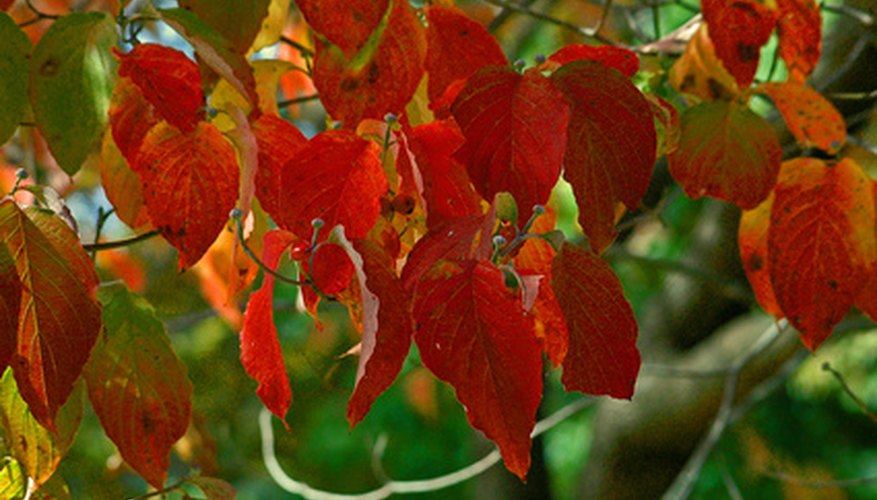 Red osier dogwood (Cornus sericia stolonifera) is a native multi-stemmed shrub grown for its red twigs in winter. Its native habitat is in wetland areas, but it will do fine with regular water. It will reach up to 9 feet in height, but is easily kept at 5 to 6 feet with yearly pruning. Redtwig dogwood spreads by underground runners and eventually forms a 10 foot clump. It produces clusters of white flowers in summer, followed by ornamental white berries. To maintain good twig color, prune this shrub back in early the spring. There is also a yellow twig dogwood (Cornus flaviramea), and one with burgundy-black twigs called Blacktwig dogwood (Cornus kelseyi). All of these shrubs are known for their brilliant fall foliage. They are all hardy to USDA zone 2. There are noteworthy willow shrubs for wet areas. A variegated form called Dappled willow (Salix integra 'Hakuro Nishiki)' has pink twigs and pink, white and green foliage. It is an upright shrub that averages 4 to 6 feet tall. It will need protection from afternoon sun to prevent leaf burn. It is cold hardy to USDA zone 4. Another willow grown for its blue foliage is Alaska blue willow (Salix purpurea). It is a tall shrub reaching 8 to 10 feet. There is a dwarf variety (salix purpurea 'Nana)' that will remain 3 to 5 feet tall. Alaska blue willow is hardy to USDA zone 3.
Flowering Shrubs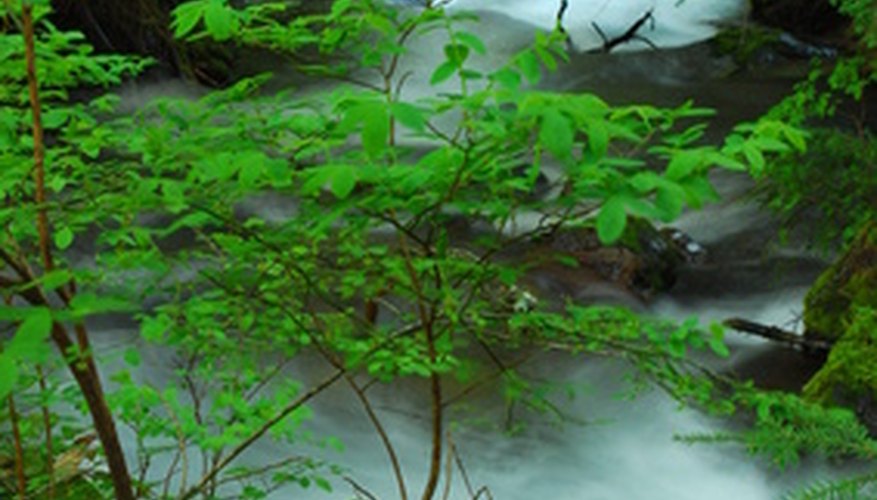 Summersweet (Clethra alnifolia) is very useful in areas with moist soil. This is an upright deciduous shrub with shiny leaves. Spires of tiny, white, fragrant flowers cover this shrub in summer. Summersweet is native to the eastern United States and is hardy to USDA zone 4. The species can reach up to 10 feet tall. There is a 2 to 3 foot dwarf Summersweet called (Clethra alnifolia 'Hummingbird)'. Another shrub for moist soil is Sweetspire (Itea virginica 'Henry's Garnet)'. It is a North American native shrub. The word garnet in the name describes the deep burgundy fall leaf color. This shrub produces hanging clusters of fragrant white flowers in summer. Itea does best in shady conditions and is hardy to USDA zone 5. (Calycanthus) is a tall 6 to 10 foot shrub that develops sweet-smelling, burgundy, rose-shaped blooms. There are two species good for areas with wet soil. Carolina allspice (Calycanthus floridus) is a Southern native that is hardy to USDA zone 5. Spice bush (Calycanthus occidentalis) is a Western native shrub hardy to USDA zone 6.
Shrubs with Edible Berries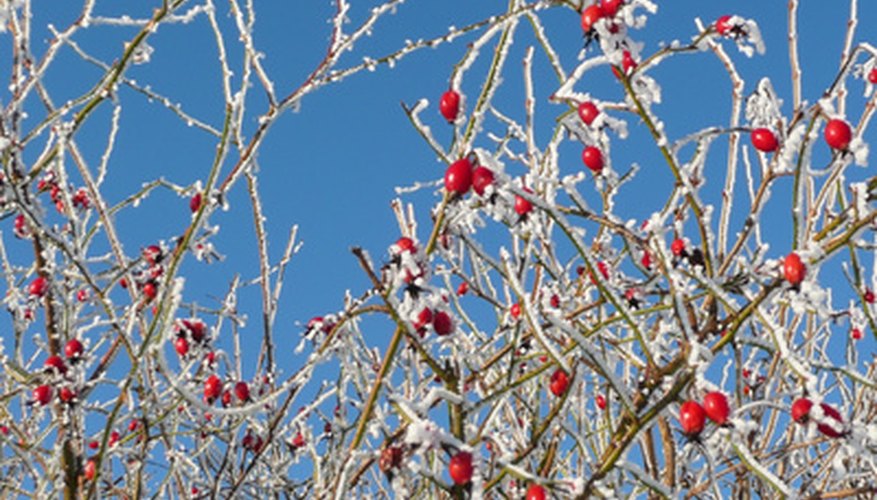 The United States is home to a group of moisture-loving shrubs with edible berries. Blue elderberry (Sambucus cerulea) is classified as both a tall shrub and a small tree. It develops umbels of white flowers followed by blue-black berries in late summer. Salmonberry (Rubus spectabilis) is a 3 to 10 foot shrub with medium-green, crinkly leaves. This shrub produces attractive magenta-pink blooms followed by salmon-colored berries. Salmonberry is hardy to USDA zone 5. Thimbleberry (Rubus parviflorus) is characterized by large, downy, palmate leaves. This 3 to 8 foot shrub develops white flowers, followed by red, raspberry-like fruit. Native roses such as the Nootka rose (Rosa nutkana) are naturally found in wet ditches and swampy areas. While they can also thrive in drier conditions, they fare well in wet soil. Wild roses have single, pink-to-white blooms and develop edible, red or orange hips in the fall.