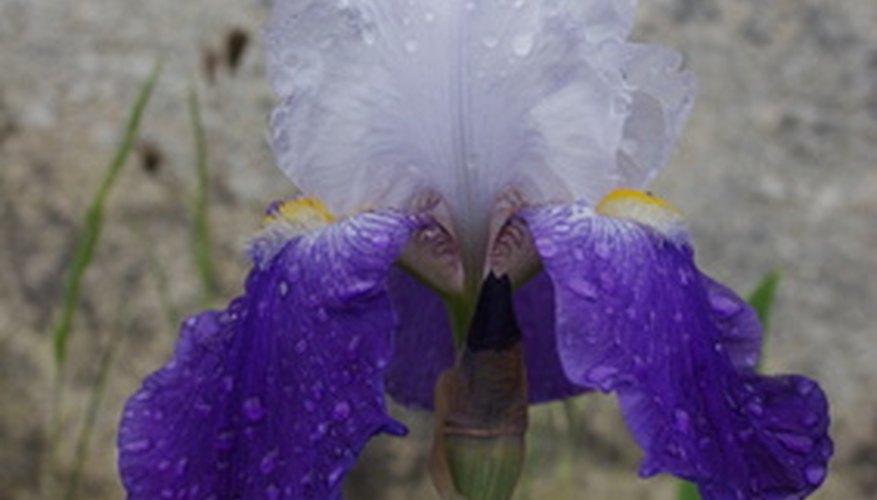 Bearded iris bulbs are almost as easy to plant as their flowers are to grow. Gardeners love bearded iris because of its variety of bloom colors and sizes. Furthermore, new varieties of iris re-bloom in summer and fall after their spring display, offering bright color in two seasons. But regardless of whether your bearded iris blooms once or twice a year, the best time to plant it is in between July and September. This gives outdoor plants time to establish themselves before the temperatures drop in the winter months.
Contact your local county extension office to have them conduct a soil test in the area where you intend to grow your bearded irises. Bearded irises need nutritious soil, and the soil report you get will inform you of any deficiencies. Ideally, the soil test should be conducted at least 6 months before you plant your bearded irises. This way you can incorporate any amendments recommended by your soil test well in advance. Bearded irises like nutritious soil, but they don't like to be planted in freshly added amendments like compost or manure. Adding them early gives the soil time to mature.
Use a hand tiller or rototiller to loosen the soil 6 inches deep. Remove any rocks or plant material and break up any large clumps of soil. Then smooth the soil with a rake.
Dig holes for each bulb that are just deep enough for the bulb to fit when lying on its side, with its top side just above the surface of the soil. Plant clumps or bunches of bearded iris so that individual rhizomes are 8 to 10 inches apart. Neighboring clumps should be roughly 1.5 feet apart.
Plant each bearded iris bulb in its hole, on its side with its leaves pointing in the direction you want the iris to grow (facing toward the front edge of the flower bed, for example). The top of the bearded iris bulb (that is, the side that sits on top when planted) should just peek above the surface of the soil. If the weather is excessively hot when you plant the bearded iris, however, you may cover it with 1/2 inch of soil.
Water the rhizome bed until the soil is soaking. After the initial soak, keep the planting bed moist (not soaking) until the iris bulbs produce new growth.