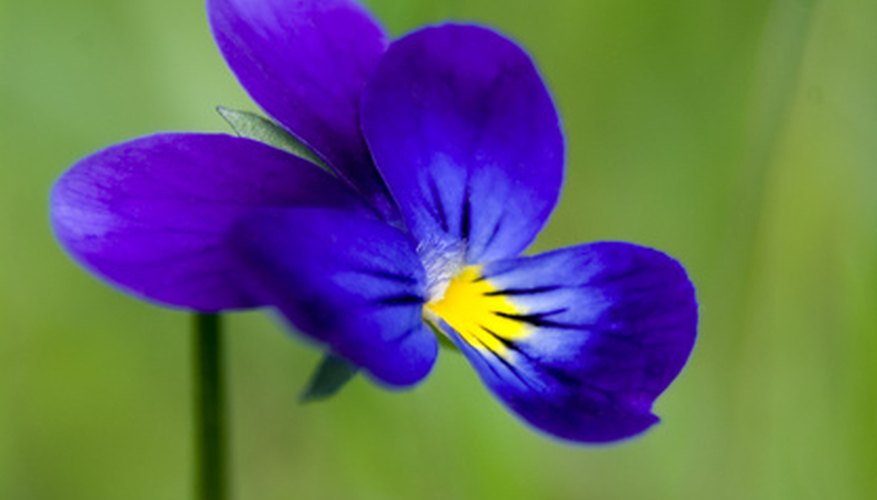 As the temperatures begin to drop and the leaves turn fiery fall colors, many fall-blooming flowers spring up within the garden. Grown in a wide range of colors, heights, textures and shapes, fall flowers enhance surrounding foliage and complement existing plants already in bloom. Oftentimes, plants that are best for pots have a bushy, mounding form and billowing shape.
Wild Pansy
Wild pansy (Viola tricolor) is an annual, biennial or short-lived perennial, depending upon the hardiness zone. Growing less than 6 inches tall and wide, wild pansies have a moderate growth rate and rainbow of colorful "faces." Colors include, blue, yellow, white and purple and when planted in containers, create a colorful design. Native to Europe and Asia, wild pansies bloom in fall to light up the garden with color. Their heart-shaped leaves contrast with the bright blooms to produce a bushy, mounding display. Wild pansies grow best in full sun to part shade and well-drained, nutrient-laden soil that is moist. To promote a long flowering season, deadhead the spent blooms. Plant wild pansies in USDA Hardiness Zones 3 to 9.
Callie Rose Star
Callie Rose Star (Calibrachoa "Callie Rose Star") is an annual fall flower with a vigorous growth rate and spreading, mounding habit. Growing 6 to 12 inches tall and wide, Callie Rose's mass of unusual blooms creates a striking container plant. The swirl of deep red and white makes for a visually stimulating design. Callie Rose Star flowers bloom throughout the day, including at night, making for a long-lasting fall flower variety. They require full sun only and well-drained soil. Callie Rose also requires a regular feeding to ensure a healthy flower. Plant in USDA zones 8 to 11.
Stonecrop
Stonecrop (Sedum "Autumn Joy") is a perennial with an upright, clumping growth habit and form. Beginning in August, the pink to copper flowers emerge to last into November, creating a long-lasting blooming season. Growing 1 to 3 feet tall, the green succulent stems and leaves contrast with the flowers to create a perfect fall container plant. A butterfly attractant, stonecrop flowers have a moderate growth rate. To grow in other areas of the garden, divide stonecrop in spring. Stonecrop grows best in full sun to partial shade and fertile, moist soil. Plant in USDA Zones 3 to 11.