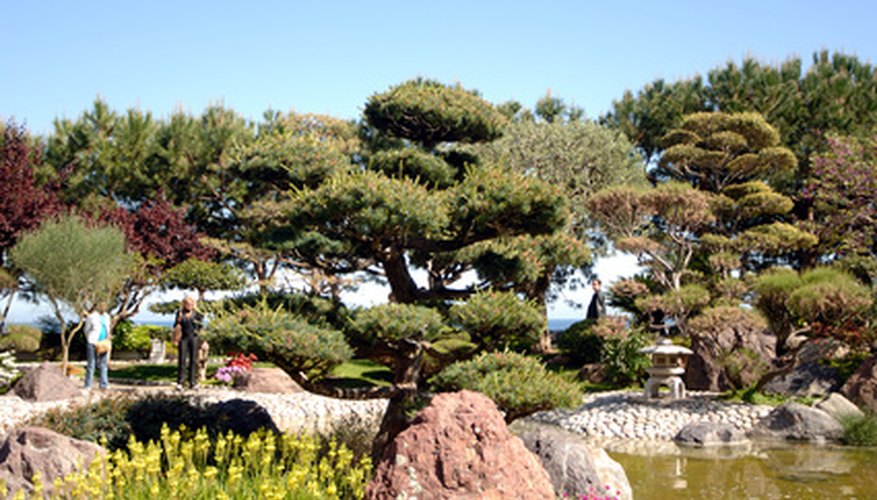 Zen gardens are also commonly known as "Japanese rock gardens" or "meditation gardens." These gardens center on the concepts of Zen Buddhism and do not necessarily always involve plants. They focus primarily on landscaping with rocks. However, many Zen gardens also include various different types of trees and shrubs. Plants that are included in Zen gardens generally aim to provide form contrast and color.
Japanese Apricot
Japanese apricot trees are popular choices for Zen gardens. They are also known as Prunus mume and Chinese plum. These ornamental flowering trees can be cultivated in the USDA Hardiness Zones of 6 to 9. They are notable for their pink, softly fragrant flowers and also produce fruit. The trees are low maintenance and thrive in soil that is fertile and moist.
Japanese Maples
Japanese maple trees are also known as both smooth Japanese maple and Acer palmatums. The woody plants originate in Japan and can be grown in the USDA Hardiness Zones of 5 to 8. The small ornamental trees grow to be between 10 and 20 feet in height. The trees have low branches and pleasant palmate leaves with colored edges and veins. Their attractive appearance tends to make them the focal point of Zen gardens. Japanese maples are intolerant of full sun, dry soil and extremely hot summers. They require light shade.
Japanese Water Iris
The Japanese water iris is an exotic and elegant perennial flower. They bloom during the months of June and July. Their blooms are vast and come in many different colors, such as blue, plum, soft white and light pink. The surfaces of the blossoms have soft textures that are similar to satin, marble or velvet. Japanese water irises do well in soil that is moisture retentive, and for a large portion of the growing season, can thrive in standing water. They are noteworthy for their foliage, which is spiky and green.