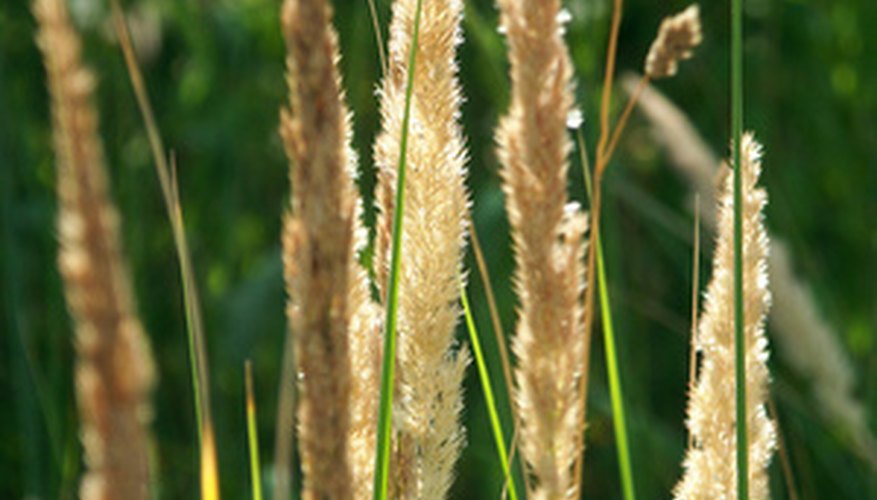 Ornamental grasses are an easy way to add texture, height and color to a landscape. A definite plus in using ornamental grass is four-season interest, because many of the taller grasses remain eye-catching even in the cold of winter.
There are basically two major considerations when choosing landscape grasses for your landscape: the height it will grow to and whether or not it is an invasive species that will overtake the rest of your garden. Invasive species are best grown and maintained in containers where you control their growth.
Tall Grasses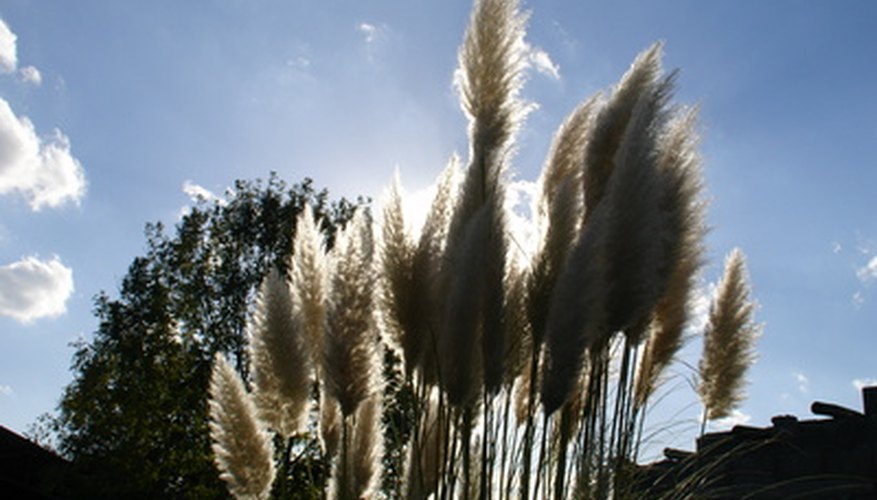 Tall ornamental grasses are those which grow to a height of 5 to15 feet. These are best used in the background of a flower bed.
Big bluestem, also known as turkeyfoot, has a bluish hue that changes to copper in the fall. The flowers resemble the footprint of a turkey.
Feather reed grass is a popular grass that doesn't mind watering negligence, so it is good for areas with drought. It is one of several "reed grasses;" this one offers feather-like fall flowers. It is also deer resistant.
Flame grass offers rare, red-hued foliage in the summer that turns bronze with an orange hue in the fall.
Giant feather grass, also called golden oats, has green/grey foliage that gives purple flowers in June before turning tan in late summer.
Giant reed grass, one of the several reed grasses, grows up to 12 feet when mature and is easily maintained.
Maiden grass has a more rounded form than other ornamental grasses and maintains its shape during the winter months, offering four-season interest.
Pampas grass is one of the most popular ornamental grasses and offers dozens of variations in size and plume color. When purchasing pampas grass, check the growing zone since it likes warm winters.
Zebra grass has unusual green and gold spots on its foliage, making it a stand out among other grasses and plants.
Mid-Sized Ornamentals
In areas where a tall ornamental would be overwhelming, mid-sized ornamentals offer a backdrop for perennial or annual beds. Mid-sized grasses are those from from 2 to 4 feet in height.
American dunegrass has deep roots and dense foliage, which is good for creating a windbreak or to prevent soil erosion.
Purple fountain grass offers deep burgundy foliage that contrasts well with the green foliage of ferns, green ivy or hosta plants and, since it is an annual in most places, works very well in containers.
Blue oat grass offers striking powder blue spikes that remain in a dome shape for visual interest.
Fountain grasses are available in many varieties. Be sure to read the label to ensure the grass you choose will over winter in your area.
Japanese forest grass has an unusual green/gold contrasting foliage that resembles bamboo. It is one of the rare grasses that does well in partial shade.
Little bluestem has finely textured blue/grey foliage that attracts butterflies and turns a rose color in the fall.
There are many varieties of sedge grass, many of which have highly unusual foliage, such as the palm sedge, with its whorling appearance, and the fiber optic sedge, with the ends of the foliage looking like a fiber optic show.
Short Ornamentals
Short ornamentals work best in the front border of a flower bed or in containers.
While there is no such thing as pure black in horticulture, black mondo is as close as you can get. Its deep foliage contrasts with its pink blossoms, which later turn into black seeds that are likely to stay on the plant through the winter. This is a slow grower.
Blue fescue works well at the front of a flowerbed since it offers neat mounds of blue/grey foliage that never become invasive or unruly.
Corkscrew rush is the perfect choice for that damp, or downright wet, area of your landscape. It will survive just fine in up to 4 inches of water and has attractive foliage.
Golden foxtail grass maintains a compact mound of yellow/green with a distinctive gold stripe.
Mexican feather grass has tiny thread-like, high-impact foliage that maintains compact clumps. The flowers atop the foliage offer contrasting gold "feathers" that move gracefully in even the lightest breeze.
Invasive Ornamentals
Invasive ornamental grasses can wreak havoc in a flower bed, as their roots run deep and once established, hate to move. These include ribbon grass and sweet grass.
Some ornamental grasses simply aren't eye-catching in a garden but are lovely as container plants. Blue sedge, which grows from 6 to 18 inches, has a bluish cast and bronze sedge grows up to 2 feet in height. Companion planting in containers can utilize these grasses hues and textures by combining annuals of like or contrasting colors to add eye appeal.