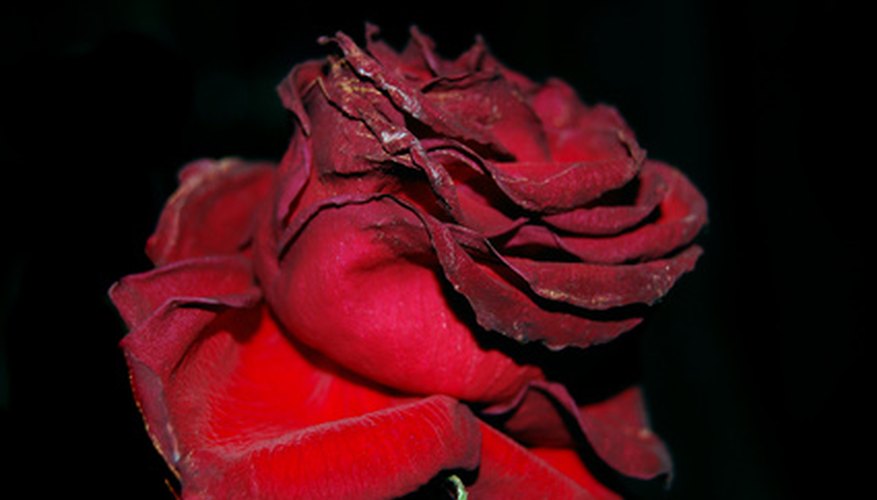 Preserving flowers for crafts and and arrangements is easy to accomplish when you use hairspray. It allows the flowers to dry and to retain their shape and color. Whether making use of garden flowers or saving the flowers given to you by someone special, drying and preserving your flowers with hairspray keeps them attractive indefinitely.
Gather an assortment of flowers from your garden or a leftover decorative bouquet. Make sure the flowers have long, healthy stems free of any visible nicks, cuts or breaks.
Bundle these flowers together, making sure the stems line up evenly.
Place the flowers, with the blooms facing down, into a paper sack.
Wrap your fist around both the top of the grocery sack and the stems. Make sure the stems protrude from the top of the sack so that the flowers do not touch the bottom of the sack.
Wrap the rubber band around the bag and stems to keep the flowers in place. Flatten the bottom of the sack so that it can sit upright with ease.
Allow the sack to sit undisturbed in a cool, dry area for approximately 5 to 7 days.
Remove the flowers from the paper grocery sack and place them upright into a vase.
Hold a can of hairspray, whether its aerosol or another type, and aim it about 5 inches from the blossoms of the flowers. Spray a fine mist over the entire surface of the flowers, making sure to rotate the vase so you can get every angle.
Allow the flowers to sit in the vase for an hour before repeating step 8 three more times.
Things You Will Need
Paper grocery sack

Rubber band
Tip
Use the flowers as a decorative display in the vase; or, use the preserved, dried petals for scrapbooking and other crafts.